Cal Poly Arab Music Ensemble Winter Concert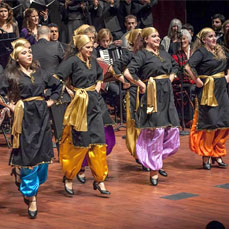 The Cal Poly Arab Music Ensemble and guest artists will perform a diverse program of music and dance from the Eastern Mediterranean and larger region at 8 p.m. Saturday, Feb. 20, in Harman Hall in the Performing Arts Center on campus.
The concert will include some of the most celebrated instrumental, vocal and poetic repertoire of the region composed and performed by artists such as Sayyid Darwish and Amr Diab from Egypt, Fairuz and the Rahbani Brothers from Lebanon, Omar Al Batsh from Syria, and Tatyos Efendi from Ottoman Turkey.
The show will feature a number of traditional and contemporary art-music genres, including the "muwashshah," one of the oldest continuously performed art music genres in the world and which, in this case, has an especially long 32-beat metric mode. Additional genres to be featured will come from the shared music traditions of the Ottoman era, including the short introductory "dulab" and the more elaborate "samai" with its 10-beat metric mode.
The Cal Poly Arab Music Ensemble consists of a multi-instrumental orchestra and choir with vocal and instrumental soloists. The concert also will include a "takht" or chamber ensemble of students showcasing their abilities to work in the advanced setting of a small group.
Critically acclaimed guest artists will include Egyptian violinist Adel Eskander, Jordanian qanun player Mousa Nasser, and Egyptian percussionist Mohamed Radi, all based in the Los Angeles area. The program will also feature choreographies to Armenian and Egyptian songs led by San Luis Obispo dance director Jenna Mitchell.
Cal Poly Music Department ethnomusicologist Ken Habib -- composer, performer and scholar -- will direct the 25-member ensemble.
Tickets are $12 and $14 for the public and $9 and $12 for students. Pricing includes all Performing Arts Center fees, and event parking is sponsored by the PAC. Tickets are sold at the Cal Poly Ticket Office between noon and 6 p.m. Monday through Saturday. To order by phone, call SLO-4TIX (756-4849).
A 10 percent discount is given to patrons who buy season tickets to four Music Department events through the Cal Poly Ticket Office; a 15 percent discount is given on tickets to five or more events.
The concert is sponsored by Cal Poly's College of Liberal Arts, Music Department, and Instructionally Related Activities program. For more information, call the Music Department at 805-756-2406.
Saturday, 20 February, 2016
Starts at 12:00 AM
Cost:
$12 and $14 general, $9 and $12 students
Categories:
Share this Event
Email to a Friend
More...
Save to Your Calendar
Google Calendar
Yahoo! Calendar
Windows Live Calendar
iCalendar (
download
) (
subscribe
)
vCalendar (
download
)