Cal Poly Choirs' Winter Concert: 'America … America'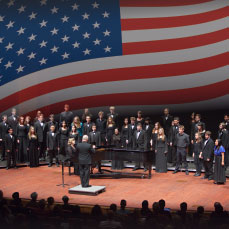 Cal Poly Choirs' Winter Concert to Highlight American Music on Feb. 27
Music written by several prominent American composers will be featured during the Cal Poly Choirs' Winter Concert at 8 p.m. Saturday, Feb. 27, in the Performing Arts Center's Christopher Cohan Center.
Titled "America … America," this musical extravaganza will include music from an array of American traditions, including musical theater, spirituals and American classical. Cal Poly's PolyPhonics and The University Singers will be accompanied by Susan Azaret Davies and Paul Woodring. The choirs are conducted by Music Professor Thomas Davies.
Works by Randall Thompson, Kirke Mechem, Morten Lauridsen, Craig Kingsbury, and J. Aaron McDermid will be performed.
Tickets are $12 and $14 for the public and $9 and $12 for students. Pricing includes all Performing Arts Center fees, and event parking is sponsored by the PAC. Tickets are sold at the Cal Poly Ticket Office between noon and 6 p.m. Monday through Saturday. To order by phone, call SLO-4TIX (756-4849).
A 10 percent discount is given to patrons who buy season tickets to four Music Department events through the Cal Poly Ticket Office; a 15 percent discount is given on tickets to five or more events.
The concert is sponsored by Cal Poly's College of Liberal Arts, Music Department, and Instructionally Related Activities program. For more information, call the Music Department at 805-756-2406.
Saturday, 27 February, 2016
Starts at 12:00 AM
Cost:
$12 and $14 general, $9 and $12 students
Categories:
Share this Event
Email to a Friend
More...
Save to Your Calendar
Google Calendar
Yahoo! Calendar
Windows Live Calendar
iCalendar (
download
) (
subscribe
)
vCalendar (
download
)