Cal Poly Open House Concert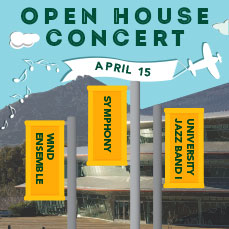 Cal Poly Open House Concert Set for April 15
Three Cal Poly music ensembles featuring more than 100 of the university's finest student musicians will perform at this year's Open House Concert at 8 p.m. Friday, April 15, in Harman Hall in the Performing Arts Center.
The Cal Poly Symphony, conducted by David Arrivée, will feature two movements from Jean Sibelius' Symphony No. 2 in D Major, Op. 43.
The University Jazz Band I, directed by Paul Rinzler, will perform "I'm Gonna Live 'til I Die," as recorded by Sarah Vaughan; "Haitian Fight Song," by legendary jazz bassist Charles Mingus; and "Michelangelo," by Fred Sturm.
The program will conclude with a performance by the Cal Poly Wind Ensemble under the direction of Andrew McMahan. Rose Doylemason, a senior music major, will be featured as a guest bass trombone soloist in a performance of Johan de Meij's "Canticles." The band will also perform "Aerospace" by French composer Maxime Aulio, and "Oh, Henry!" a new concert march written to celebrate the life of renowned American musician, composer and bandleader Henry Fillmore.
Tickets are $12 and $14 for the public and $9 and $12 for students. Pricing includes all Performing Arts Center fees, and event parking is sponsored by the PAC. Tickets are sold at the Cal Poly Ticket Office between noon and 6 p.m. Monday through Saturday. To order by phone, call SLO-4TIX (756-4849).
A 10 percent discount is given to patrons who buy season tickets to four Music Department events through the Cal Poly Ticket Office; a 15 percent discount is given on tickets to five or more events.
The concert is sponsored by Cal Poly's College of Liberal Arts, Music Department, and Instructionally Related Activities program. For more information, call the Music Department at 805-756-2406.
Friday, 15 April, 2016
Starts at 12:00 AM
Cost:
$12 & $14 public & $9 & $12 students
Categories:
Share this Event
Email to a Friend
More...
Save to Your Calendar
Google Calendar
Yahoo! Calendar
Windows Live Calendar
iCalendar (
download
) (
subscribe
)
vCalendar (
download
)