Cal Poly Jazz Night: London Tour Preview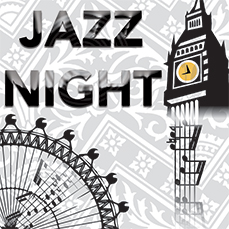 Cal Poly's Jazz Night Concert on May 14 to Highlight London Tour Repertoire
Cal Poly's University Jazz Bands will present their annual Jazz Night Concert at 8 p.m. Saturday, May 14, in Harman Hall in the Performing Arts Center's Christopher Cohan Center.
The concert will feature repertoire that the University Jazz Band I will perform on its performance tour of London in June. The band will perform several concerts at some of London's top jazz clubs, providing a great opportunity for the students to gain international experience performing jazz, said Director of Jazz Studies Paul Rinzler.
The University Jazz Band I will perform Duke Ellington's composition "Caravan," in a complex arrangement by composer and arranger Michael Abene. The band will also perform the raucous and wild "Moanin'," a piece recorded by the Charles Mingus Big Band. Mingus, the late bassist and composer, was well known for creating raw, expressive works for jazz bands.
In addition to the University Jazz Band I, the University Jazz Band II and two combos will perform on the concert.
Tickets to the concert are $12 or $14 for the public and $9 or $12 for students and Jazz Federation members. Pricing includes all Performing Arts Center fees, and event parking is sponsored by the PAC. Tickets are sold at the Cal Poly Ticket Office between noon and 6 p.m. Monday through Saturday. To order by phone, call SLO-4TIX (756-4849).
The Music Department offers a 10 percent discount to patrons who buy season tickets to four of its events through the Cal Poly Ticket Office; a 15 percent discount is given on tickets to five or more events.
Donations for the London tour can be made securely online.
The concert is sponsored by Cal Poly's Music Department, College of Liberal Arts, and Instructionally Related Activities program. For more information, call the Music Department at 805-756-2406.
Saturday, 14 May, 2016
Starts at 12:00 AM
Cost:
$12 or $14 public, $9 or $12 students
Categories:
Share this Event
Email to a Friend
More...
Save to Your Calendar
Google Calendar
Yahoo! Calendar
Windows Live Calendar
iCalendar (
download
) (
subscribe
)
vCalendar (
download
)