Cal Poly Early Music Ensemble to Present 'Craig Russell, A Musical Tribute!' May 30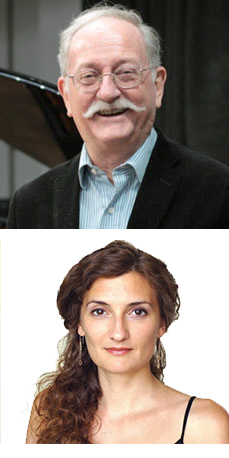 Cal Poly Early Music Ensemble to Present 'Craig Russell, A Musical Tribute!' May 30
The Cal Poly Early Music Ensemble will present "Craig Russell: A Musical Tribute" at 2 p.m. Monday, May 30, in Harman Hall of the Performing Arts Center's Christopher Cohan Center.
The concert is a celebration of music Professor Craig Russell, who has been at Cal Poly for 34 years. It will feature music from the Mexican cathedrals by Antonio de Salazar and Manuel de Sumaya that Russell reconstructed using original manuscripts from the Puebla Cathedral in Mexico City. He composed parts that had gone missing over the span of three centuries.
Music Professor Thomas Davies will conduct the program. "Salazar and Sumaya are giants of the Mexican Baroque," said Davies. Sumaya was a student of Salazar's.
The compositions by Salazar to be performed include "Conceptio Gloriosae" ("Glorious Conception"), "Inveni David" ("I Have Found David"), and "A del cielo" ("To the One Who Calls from Heaven").
Sumaya's works to be performed will include "Cum esset Desponsata" ("When She Was Espoused") and "¡O suma alegría!" ("O Greatest Happiness!"). The moods of the pieces range from soothing church motets to "villancicos," which are highly energetic folk music.
The Early Music Ensemble is comprised of 12 student vocalists from various majors. A group of instrumentalists will accompany the performances, including Cal Poly instructors Paul Severtson, violin; Emily Lanzone, violin; Jeanne Shumway, cello; Paul Woodring, organ; and Jennifer Sayre, harp. Russell will play baroque guitar.
Kathryn Summersett will be the guest soprano, singing Sumaya's "Cantada al Santísimo Sacramento" ("Cantata for the Most Holy Sacrament" [Communion]). This four-movement work equally demonstrates the skills of the composer and the performer, Davies said.
Summersett is pursuing her Doctor of Music degree from Indiana University in Bloomington, Ind. She met Russell in 2014 when she was a featured soloist in "A Baroque Christmas in the New World," a collaborative program between the Historical Performance Institute of Indiana University and Public Radio International.
Russell started teaching at Cal Poly in 1982, after earning his doctorate at the University of North Carolina. While at Cal Poly, he received numerous awards from the university, the California State University (CSU), and scholarly organizations throughout the world. They include the 2007 Wang Family Excellence Award in recognition of CSU faculty who distinguish themselves by exemplary contributions and achievements in their academic disciplines; the 2007 Cal Poly Distinguished Research Award; the 2007 Cal Poly College of Liberal Arts' Distinguished Research Award; the 1996 President's Arts Award; the 1994-95 CSU Trustee's Outstanding Professor Award, CSU's highest honor; and the 1994-95 Cal Poly Outstanding Faculty Award. In 2013 he was inducted into the prestigious Reial Acadèmie Catalana de Belles Arts de Sant Jordi (one of a few North American scholars to be inducted into the Spanish Royal Academy).
In addition to teaching traditional courses such as Music Appreciation and Music History, he pioneered popular classes such as The Beatles; Music of the '60s: War and Peace; and Popular Music Styles of Latin America.
His publications have also won numerous awards. His book "From Serra to Sancho: Music and Pageantry in the California Missions" won the 2010 Edna Kimbro award as the most distinguished publication dealing with missions. "J.B. Sancho: Pioneer Composer of California" won the Historical Society of Southern California's Norman Neuerburg Award for outstanding writing in early California history in 2007.
His compositions have been performed internationally to significant acclaim. The San Luis Obispo Symphony Orchestra has performed Russell's concerts in Carnegie Hall in New York City, the Walt Disney Concert Hall in Los Angeles, the John F. Kennedy Center for the Performing Arts in Washington, D.C., and the Sydney Opera House in Australia.
Concert-goers are invited to attend a reception in the Performing Arts Center's Rossi Grand Lobby following the concert.
The Music Department is compiling anecdotes and well-wishes for a memory book for Russell. Those wanting to contribute can do so at the online form at http://music.calpoly.edu/russell/.
Tickets to the concert are $14 for the public and $9 for students. Pricing includes all Performing Arts Center fees, and event parking is sponsored by the PAC. Tickets are sold at the Cal Poly Ticket Office between noon and 6 p.m. Monday through Saturday. To order by phone, call SLO-4TIX (756-4849).
The concert is sponsored by Cal Poly's College of Liberal Arts, Music Department, and Instructionally Related Activities program. For more information, call the Music Department at 805-756-2406.
Monday, 30 May, 2016
Starts at 12:00 AM
Cost:
$12 and $14 general, $9 and $12 students
Categories:
Share this Event
Email to a Friend
More...
Save to Your Calendar
Google Calendar
Yahoo! Calendar
Windows Live Calendar
iCalendar (
download
) (
subscribe
)
vCalendar (
download
)