Cal Poly Wind Bands Anniversary Concert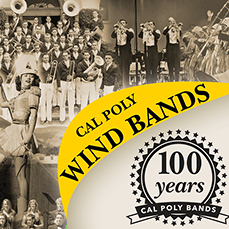 Cal Poly Wind Bands to Perform Anniversary Concert June 5
Cal Poly students, faculty and alumni will join forces to present a special anniversary concert at 3 p.m. Sunday, June 5, in Harman Hall of the Performing Arts Center's Christopher Cohan Center.
The concert is a celebration of three anniversaries: 20 years of performances in the Performing Arts Center; 50 years collaborating with music Professor Emeritus William V. Johnson, director of bands; and 100 years since the Cal Poly band program began.
In addition to works for wind band that pay tribute to the progression of the Cal Poly bands through the years, the concert will end with a special ensemble consisting of Cal Poly alumni from the 1960s to 2015.
The Wind Orchestra, conducted by Christopher J. Woodruff, will perform "Arcana" by Kevin Houben, "De Profundis" by Jonathan Newman and "English Dances" by Malcolm Arnold. Senior music major Leah Anderson will be featured as a guest tuba soloist for Roy Newsome's "Bass in the Ballroom."
The Wind Ensemble, conducted by Andrew McMahan, will begin with the world premiere performance of "Centennial Jubilee," a work written by Johnson especially for the 100-year anniversary of the Cal Poly bands program. The group will also perform John Mackey's "Wine-Dark Sea: Symphony for Band," a three-movement tour-de-force written in celebration of the 100th anniversary of the Sarah and Ernest Butler School of Music at the University of Texas in 2014.
The concert will end with a special performance by a wind band comprised of Cal Poly alumni from the past 45 years. The group will perform three selections: "Transcendent Journey" by Rossano Galante, conducted by Woodruff; "Regina coeli laetare" ("Queen of Heaven Rejoice") from "Cavalleria rusticana" ("Rustic Chivalry") by Pietro Mascagni, arranged and conducted by Johnson; and "Danzón No. 2" by Arturo Márquez, conducted by McMahan.
Tickets to the concert are $12 or $14 for the public and $9 or $12 for students. Pricing includes all Performing Arts Center fees, and event parking is sponsored by the PAC. Tickets are sold at the Cal Poly Ticket Office between noon and 6 p.m. Monday through Saturday. To order by phone, call SLO-4TIX (756-4849).
The concert is sponsored by Cal Poly's College of Liberal Arts, Music Department, and Instructionally Related Activities program. For more information, call the Music Department at 805-756-2406.
Sunday, 05 June, 2016
Starts at 12:00 AM
Cost:
$12 or $14 for the public and $9 or $12 for studen
Categories:
Share this Event
Email to a Friend
More...
Save to Your Calendar
Google Calendar
Yahoo! Calendar
Windows Live Calendar
iCalendar (
download
) (
subscribe
)
vCalendar (
download
)