Lompoc teens arrested for torture and killing a rabbit
February 10, 2017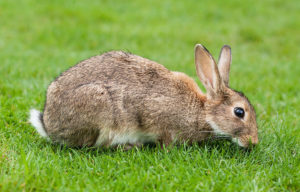 Three Lompoc teens — ages 13, 14 and 15 — stole a neighbor's pet rabbit, then used a dog, knife and hatchet to torture and kill the animal, according to the city's police department. When confronted, the teens allegedly threatened to shoot an animal control officer.
At approximately 11:38 a.m. on Thursday, a Santa Barbara County animal control officer was investigating a noise complaint at a property on East Airport Avenue. The animal control officer witnessed three male teens who appeared to be torturing a rabbit in the backyard, according to Lompoc police.
One of the teens then told the officer they could shoot and kill her if she entered the property.
Lompoc police officers quickly arrived at the scene and detained the teens. Officers conducted a thorough investigation, and the teens confessed to the crimes, according to the police department.
Officers charged the teens with felony animal cruelty, conspiracy, criminal threats and petty theft and booked them into juvenile hall. Officials are not releasing the suspects' identities.