More suspensions over Cal Poly blackface
April 13, 2018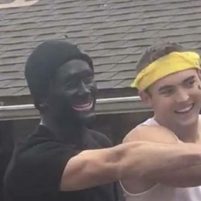 Despite the suspension of Cal Poly's chapter of Lambda Chi Alpha and the resignation of its leadership, some students and community members are continuing to express outrage over last weekend's blackface incident both on campus and in the press. [Cal Coast Times]
Last Saturday, while the university was holding its Poly Cultural weekend, a member of Lambda Chi Alpha was photographed at a fraternity brotherhood event. The blackface photo, coupled with a second photo showing fraternity members dressed as gangsters, have caused outrage in the local community.
After earlier punitive and public relations measures failed to quell the anger, on Thursday, Cal Poly President Jeffrey Armstrong held a forum on the blackface incident at the university Performing Arts Center. Nearly 1,000 students attended the forum.
During the event, Armstrong announced that Cal Poly's Interfraternity Council had decided to put all of the university's fraternities on suspension. The fraternities, which are describing the suspension as a voluntary measure, are now prohibited from partaking in many of their usual activities.
Armstrong, who said he was horrified by the blackface photo, said university officials are still investigating both Lambda Chi Alpha and the fraternity member who appeared in blackface. The university president said it is doubtful the student will be expelled from Cal Poly.
"It's very, very unlikely that the student will be expelled for painting his face black," Armstrong said. "It is very, very likely protected by free speech."
Nonetheless, students who spoke during the forum called for the student's expulsion, as well as stiffer sanctions against other Lambda Chi Alpha members. Students also said they feel unsafe on campus and asked Armstrong what resources the university would provide to students of color.
Denise Isom, the chair of Cal Poly's Ethnic Studies Department and executive with the Office of University Diversity and Inclusion, flanked Armstrong during the forum.
"We have been trying all week to create a safe space, to create meaningful dialogue," Isom said.
Prior to Thursday's forum, the Mustang News published an editorial headlined "Dear President Armstrong, you have failed." The editorial was written by Naba Ahmed, Mustang News's editor-in-chief.
Ahmed stated she is a Muslim woman of color and that she was horrified by the Lambda Chi Alpha incident. The Tribune republished the editorial, despite it containing questionable comments on journalistic ethics.
"I am the leader of Cal Poly's news source and I pride myself on leading a staff that works to report unbiased, accurate stories," Ahmed wrote. "Our staff understands that there are always two sides to every story. However, this is not the case with Lambda Chi."
In both the Mustang News and Tribune versions, the editorial contains a note stating Ahmed's views "do not reflect the viewpoints and editorial coverage of Mustang News." Both versions note Ahmed is the editor-in-chief of Mustang News.
The blackface scandal has already garnered national news coverage, including from the New York Times. The New York Times article recapped multiple "racist or insensitive incidents" at Cal Poly in recent years.