Santa Margarita man suspected of car theft
January 9, 2016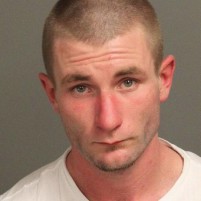 A Santa Margarita man led San Luis Obispo County Sheriff deputies on a high-speed chase in a stolen car on Friday.
At about 10:26 a.m., deputies spotted a Volvo SUV which had been reported stolen the previous day out of Arroyo Grande. When deputies attempted to initiate a traffic stop, Dalton Lee Cross, 25, sped away in the Volvo.
A short pursuit ensued on Willow Road that reached a top speed of 95 miles an hour before the stolen Volvo went off the road and landed in a field at the intersection of Willow Road and Guadalupe Road in rural Arroyo Grande
Deputies arrested Cross on suspicion of felony auto theft, attempting to evade a peace officer in a reckless manner and violating his probation. He was booked into the San Luis Obispo County Jail with his bail set at $90,000.