SLO home damaged in fire
January 26, 2015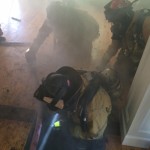 A fire broke out beneath the floor of a San Luis Obispo home Sunday morning and caused about $10,000 in damages.
San Luis Obispo firefighters responded to 294 Buchon Street around 10:30 a.m. after people walking by reported seeing smoke. When firefighters arrived on scene, they created an opening in the hardwood floor and stopped the spread of the fire.
Fire crews controlled the blaze within five minutes of arrival. No one suffered any injuries as a result of the fire.
The residents of the house were away eating breakfast at the time of the fire.
Investigators are still determining the cause of the fire, but officials say the blaze likely came from the location of a 60-year-old furnace.