6 suspected arson fires in San Luis Obispo
December 9, 2015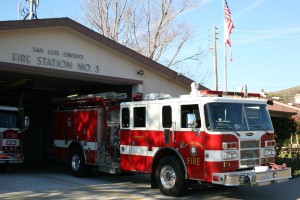 Investigators suspect a serial arsonist started a series of six small grass fires in San Luis Obispo Tuesday evening.[KSBY]
Shortly after 10 p.m., firefighters responded to two small vegetation fires in the creek area near the intersection of Meinecke Avenue and Santa Rosa Street. Firefighters extinguished the blazes in time to fight two additional fires.
At about 11 p.m., two more suspicious fires were reported in the creek area behind the former Haggen grocery store near Toro Street. Firefighters quickly put out the blazes.
Several hours later, there was another vegetation fire spotted near the creek. Firefighters responded to an area of vegetation near the intersection of Higuera and Marsh streets.
Firefighters battled their last suspicious fire of the night at 3 a.m. near the end of Bridge Street.
There have been 40 suspicious fires in San Luis Obispo this year.