Is a SLO arsonist targeting the homeless?
March 21, 2016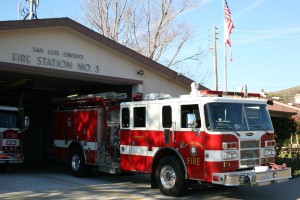 A fire that destroyed about $40,000 of sports equipment Friday evening may have been the latest case of arson in San Luis Obispo. The fire burned two maintenance sheds next to a baseball field, but an arsonist could have been targeting a homeless restroom, fire officials say.
The blaze broke out around 9:30 p.m. behind the San Luis Coastal adult school on Lizzie Street. Both sheds were completely engulfed in flames by the time firefighters arrived.
San Luis Obispo Baseball Club lost about $25,000 of equipment in the fire, and the adult school lost about $15,000 of equipment.
Dating back to early 2015, there have been numerous incidents of arson in San Luis Obispo. Fire officials said many of the fires were set in areas where homeless people congregate, and some have targeted homeless people's belongings.
Fire investigators say there may have been a homeless restroom in between the two sheds that burned on Friday.
Last week, San Luis Obispo police charged a homeless man with arson after he allegedly set a small fire at a Shell gas station. The suspect has been in jail since Tuesday on a variety of charges.
More than 40 cases of suspected arson occurred in San Luis Obispo in 2015. Investigators have yet to solve most of the cases.