Central Coast hospital worker accused of sexual assault
January 24, 2015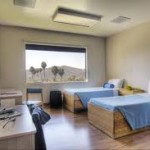 Ventura police arrested a 37-year-old man Thursday for allegedly sexually assaulting a patient at a Central Coast psychiatric hospital. [CBS]
Police booked Juan Pablo Valencia into the Ventura County Jail for sexual contact with a confined person, sexual penetration of a mentally disturbed person and rape of a victim incapable of giving consent due to a mental disorder. He is no longer in custody.
In 2013, Juan Pablo Valencia was working at the Vista Del Mar Hospital, currently the only medium-term, mental health hospital within San Luis Obispo, Santa Barbara and Ventura counties.
In October 2014, the former patient of the hospital told police that Valencia pursued her sexually at the hospital and after she was released.