Pat Hedges makes a splash
January 21, 2015
Former San Luis Obispo County sheriff Pat Hedges has burst back onto the scene by crashing into a fire hydrant and knocking out power — not in pursuit of a suspect — rather by accident.
San Luis Obispo Police Captain Chris Staley identified Hedges as the man behind the wheel in an early morning collision on Sunday. Shortly after 4 a.m., Hedges crashed his white truck into a power pole next to Sierra Vista Regional Medical Center that fell onto a sign.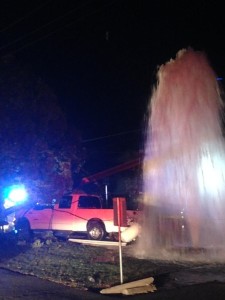 Hedges hit a fire hydrant, as well, sending water gushing skywards. PG&E and city utilities workers worked several hours to restore water and power.
A city fire department tweet indicated that 27 customers were expected to remain without power until noon Sunday. Hedges was trapped in the vehicle, but not injured, according to the fire department.
San Luis Obispo police claim no drugs or alcohol were involved in the collision. Hedges was not arrested.
Five years ago, Hedges left his sheriff's post, leaving behind a troubled legacy. Costly settlement payouts, controversial marijuana raids and the wiretapping of his top deputy marred his time in office.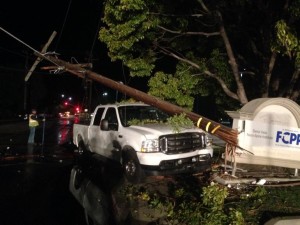 Like CalCoastNews on Facebook.