Fire burns SLO home
March 16, 2015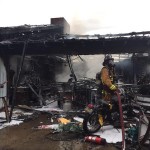 A San Luis Obispo couple is in search of a home following a fire that erupted in their house Sunday morning.
The fire broke out in the garage at 514 Patricia Drive around 7:40 a.m. Sunday. The couple was home at the time, and they attempted to extinguish the fire.
But, the man and woman did not succeed in putting out the fire, and flames quickly shot up about 50 feet into the air. The couple escaped without suffering any injuries.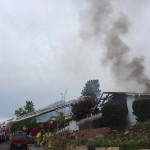 Firefighters arrived on scene about two minutes after the 911 call, according to the San Luis Obispo Fire Department. Fire crews extinguished the blaze without any firefighters suffering injuries.
The cause of the fire remains under investigation. The Red Cross is helping the displaced couple find a new home.