SLO child porn suspect volunteered for youth football
March 16, 2015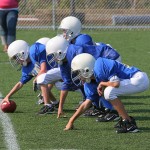 A San Luis Obispo man arrested last week for possession of child pornography volunteered for a local youth football league for nearly three decades.
Christopher Kluck, 57, served as a volunteer for the nonprofit Central Coast Youth Football League for the past 28 years, league president Vic Kunze told CalCoastNews. Kluck worked for the league in recent years in an administrative position.
Kunze said the league has conducted background checks on its volunteers for the past four or five years. Likewise, the league did not receive any complaints about him, Kunze said.
The league released Kluck from his position on Wednesday after San Luis Obispo police arrested him.
Earlier in the day, police searched Kluck's home in the 3900 block of South Higuera. They seized four computers, seven hard drives and some thumb drives.
A brief search of the devices revealed numerous images and videos of child pornography, according to the police department. The children in the pictures appeared to range in age from 10 to 17.
In all, Kluck had tens of thousands of files that contained images and videos. Detectives are now in the process of searching those files, and it is expected to take the investigators several weeks to determine if there is additional child pornography.
Officers charged Kluck with possession of minors involved in sexual conduct and booked him in jail on $35,000 bail. Kluck is no longer in jail, according the sheriff's website.