Lenny Jones accused of kidnapping and sexual assault
April 14, 2015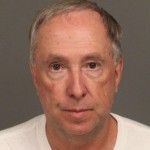 By KAREN VELIE and JOSH FRIEDMAN
UPDATE: Lenny Jones' bail has been increased from $500,000 to $1 million.
ORIGINAL: Arroyo Grande's 2014 Citizen of the Year was arrested Monday for allegedly kidnapping, penetrating with a foreign object, and molesting two girls under 14 years of age. The alleged molestation took place while the girls were attending a birthday party at Lenny Jones' home in March.
Jones, 63, has been a leader in the community heading multiple boards. Until he resigned a few weeks ago, Jones was the president of the Woods Humane Society, the president of the Pismo Coast Association of Realtors, past president of the Rotary Club of Arroyo Grande, past board chair of the Arroyo Grande Chamber of Commerce,  and was involved in Arroyo Grande in Bloom and the Arroyo Grande Tree Guild.
Local sources told CalCoastNews that this is not the first time Jones has been accused of child molestation. More than 20 years ago, Jones and a business associate parted ways after it was suspected Jones had inappropriately touched a child, sources said.
A few weeks ago, Jones stopped working in his Arroyo Grande real estate office and told friends he was checking into a 30-day rehab center for an addiction, a source said.
Shortly after 5 p.m. on Monday, San Luis Obispo County Sheriff's detectives served a search warrant at Jones' home on the 500 block of Cameo Way in Arroyo Grande. At 8 p.m., detectives served a second search warrant at his real estate office.
Detectives arrested Jones on charges of kidnapping, child molestation and penetration with a foreign object and booked him into the San Luis Obispo County Jail with bail set at $500,000.
The investigation is ongoing and additional charges are pending, according to a press release.
Investigators are asking for the public's help in identifying any other potential victims in this case by calling the San Luis Obispo County Sheriff's Office at (805) 781-4500.
Don't miss links to breaking news stories, like CCN on Facebook.