Truck slams into SLO power pole, causes outage
April 14, 2015
A yellow pickup truck crashed into a San Luis Obispo power pole Monday afternoon, knocking out electricity in the area and trapping the driver inside the vehicle.
Around 4:22 p.m., the driver veered left, crossed two lanes of opposing traffic and hit the pole, according to the San Luis Obispo Police Department. The crash occurred on Johnson Avenue south of Ella Avenue.
The power pole sheared off at the base and fell on the vehicle. Power lines landed on top of the truck.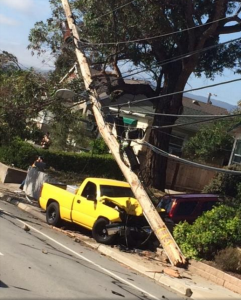 Fire personnel responded to the scene but had to wait as PG&E workers de-energized high voltage lines, according to the city fire department. The fire crews then extricated the driver from the truck.
The male driver received treatment for non life-threatening injuries at Sierra Vista hospital. The driver told police that he swerved to avoid a dog that ran in front of his truck.
The collision caused 2,736 customers in San Luis Obispo to lose power, according to PG&E representative John Lindsey's Twitter feed. PG&E restored power to all of the affected customers by Tuesday evening.
An unrelated outage occurred Tuesday in Cambria causing 3,534 customers to lose power, according to Lindsay's tweets. Power also returned in Cambria Tuesday evening.