Bicyclist injured in Grover Beach hit-and-run
July 24, 2015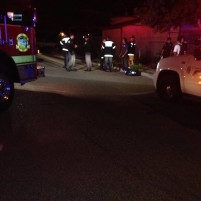 A bicyclist survived a hit-and-run collision with a vehicle in Grover Beach Thursday night.
The bicyclist only suffered minor injuries but was taken to the hospital, according to the Grover Beach Police Department. Police are still searching for the driver.
The collision occurred at 16th Street and Mentone Avenue. Police say a male driver fled at high speed in a dark-colored four-door Subaru sedan with right front bumper damage.
He was last seen heading eastbound on Mentone Avenue into Arroyo Grande. The driver is described as having curly or puffy hair.
Grover Beach police ask that anyone with information call (805) 473-4511.
Last year, San Luis Obispo County ranked fifth among California counties for the most bicycle collisions per capita. SLO County was also the statewide leader last year in bicycle fatalities per capita.