Man stabbed at Grover Beach homeless camp
January 6, 2016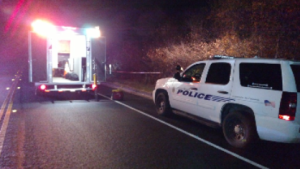 A 28-year-old man was stabbed at a Grover Beach homeless encampment Tuesday evening. The man suffered serious injuries but survived.
Police have not made an arrest, and the suspected attacker remains at large.
Around 6:55 p.m., Grover police officers and Five Cities fire personnel responded to a report of a stabbing at the encampment located south of the Grover Beach train station in the 100 block of South Highway 1. When the responders arrived, they determined the victim had been stabbed at least once in the torso.
An ambulance transported him to Sierra Vista Regional Medical Center where the victim underwent surgery Tuesday evening.
The suspect fled the scene before officers arrived, according to the Grover Beach Police Department. He was last seen running eastbound on Grand Avenue.
Police describe the suspect as a Hispanic male in his mid 20s who is between 5 foot 7 and 5 foot 9 and weighs about 180 pounds.  Witnesses said he had a goatee and was wearing a black hooded sweatshirt and black and white shorts.
Officers interviewed multiple witnesses and processed the crime scene. Authorities closed southbound Highway 1 between Grand Avenue and Pier Avenue while they conducted the investigation.
Investigators request that anyone who has information about the stabbing call the police department at 473-4511.