Fire at Lake Nacimiento grows to 1,450 acres
August 14, 2016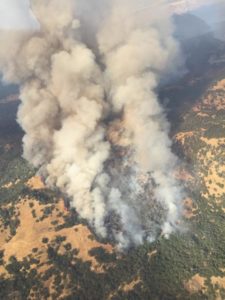 The Chimney Fire, burning near Nacimiento Lake, has scorched 1,450 acres as of 8:15 a.m. this morning — after a little more than 16 hours since it broke near the intersection of Chimney Rock Road and Nacimiento Lake Drive.
The fire was first logged Saturday at 4:04 p.m. southwest of Lake Nacimiento in the community of Running Deer Ranch. No homes have been damaged though 100 are threatened.
The fire, which is 10 percent contained, is fueled by grass and drought stressed oak trees.
Residents have been evacuated from the area of Running Deer Ranch with access to the Gage Irving Road from Aluffo Road to the south to Running Deer Road.
The area of Running Deer Ranch that includes Tri-County and Cal Shasta has been isolated by fire. Because of the isolation, a reverse 911 message was sent to residents advising them to shelter-in-place, remain alert to changing fire conditions and be prepared for immediate evacuation if necessary.