Arrests, injuries and fights at Deltopia in Isla Vista
April 9, 2017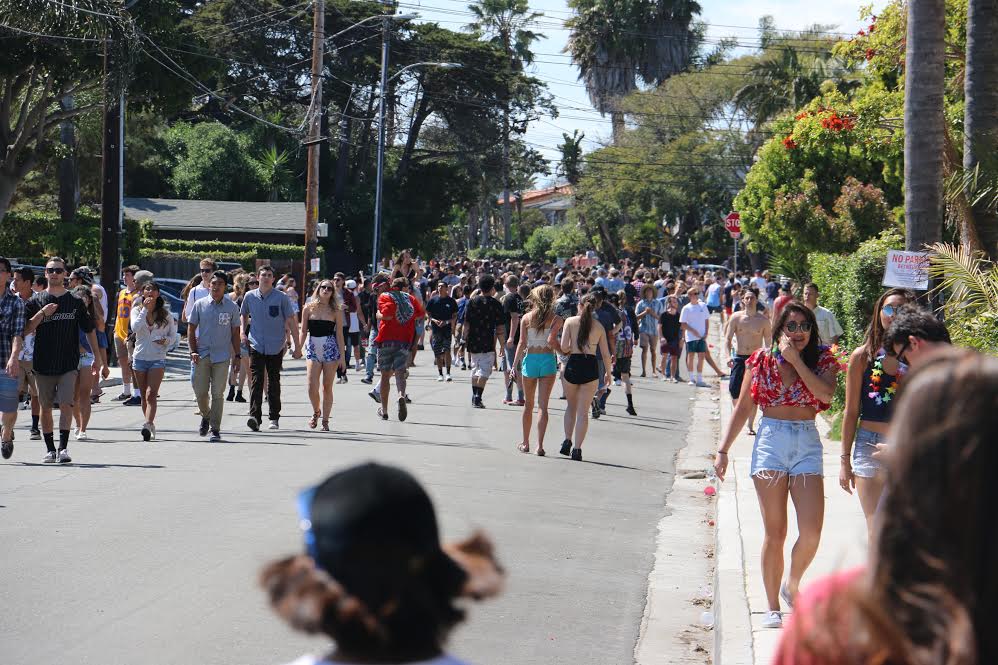 This year's spring break party in Isla Vista, known as Deltopia, included 42 arrests, 68 citations, an injured officer and a woman falling from a balcony.
The Santa Barbara County Sheriff's Office estimates that approximately 6,000 to 8,000 people attended the unsanctioned party. This years attendance is an increase from the 2016 crowd of approximately 3,500, but still dramatically lower than in 2014 when 20,000 to 25,000 people attended.
Here are some of the highlights of the 2017 Deltopia party:
On Saturday, a 22-year-old UCSB student fell from a balcony onto the beach in the 6600 block of Del Playa Drive and was transported to the hospital with moderate injuries.
At approximately 1:45 p.m. on Saturday, another UCSB student was spotted drinking from an open container. When an officer approached him, Arod Rahim, 19, resisted arrest. During the scuffle, a sheriff's deputy fell and injured his hand.
Rahim then fled into his residence on Del Playa Drive. After Rahim refused to leave his abode, a sheriff's K-9 subdued the intoxicated student.
Both Rahim and the officer were treated at a local hospitals.
Also on Saturday, three out of town men got into a fight with the hosts of a gathering at a residence on Camino Lindo. Deputies arrived, broke up the fight and booked Kyle Deville, 23, of Lancaster; Kameron Ramsey, 21, of Palmdale; and Antuan Malone, 26, of Pacoima, into the Santa Barbara County Jail on charges of battery and battery with bodily injuries.
On Saturday afternoon, law enforcement officials broke up about a dozen large parties because of various safety concerns such as overcrowding, underage drinking and bottles and other trash being thrown from balconies.
In the end, there were 42 people arrested, 68 people given citations and 14 people transported to the hospital.