Deputies find cockfighting operation in Los Osos
May 12, 2017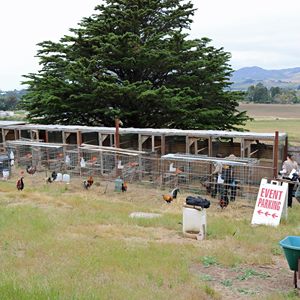 The San Luis Obispo County Sheriff's Rural Crimes Unit uncovered a cockfighting operation in Los Osos on Thursday. While deputies seized 18 roosters, they did not make any arrests.
Around 8:45 a.m., the rural crimes unit served search warrants at two locations in Los Osos and one in rural Los Osos. Deputies served the warrants in the 1100 block of 6th Street, the 1500 block of 16th Street and the 2300 block of Clark Valley Road.
Investigators found the 18 roosters in a coop at the Clark Valley Road location in rural Los Osos. Deputies identified, photographed and banded the birds. The roosters will be processed for more evidence and will remain with investigators pending the outcome of the investigation and subsequent court action.
Sheriff's officials plan to file a case with the San Luis Obispo County District Attorney's Office. The charges may include possession of gamecocks for fighting purposes and possession of implements used to prepare and care for fighting gamecocks.
Gamecocks are used for illegal cockfighting and betting, a sheriff's office press release states. Individuals involved in the illicit activity groom the roosters for fighting by cutting off their natural spurs and replacing them with graphs, slashers or other sharp instruments designed to inflict fatal wounds on the opposing rooster. Fights often lead to death of one or both gamecocks.
It is unclear if detectives have identified any suspects in the Los Osos cockfighting operation.