Carrari family feud – The Christmas morning home invasion
March 20, 2018
By JOSH FRIEDMAN and KAREN VELIE
Editor's note: This is the first in a series about winemaker Joe Carrari, his family's attempts to have him found incompetent, battles over a $50 million estate, accusations of murder and a home invasion that left two people in the hospital.

Vintner Joe Carrari thought the day could not get any worse. He was grieving the death of his eldest son who died unexpectedly on Christmas morning. But then a pack of angry relatives hurled allegations of murder while they burst into his ranch house, in a violent home invasion that sent 83-year-old Joe Carrari and his assistant to the hospital, according to a sheriff's report. [Cal Coast Times]
Months prior to the Christmas Day invasion, Joe Carrari said he was fed up with his family intruding upon his private life and meddling with his affairs, so he ordered most of his children and grandchildren to stay away from his Los Alamos ranch where he lived with his developmentally disabled 60-year-old-son George, according to letters and emails sent by James McKiernan, Joe's attorney.
After several of Joe Carrari's relatives tried to have him deemed mentally incompetent, in what he said was an attempt to gain control of his finances, Joe Carrari also hired guards to keep his estranged relatives from trespassing on his 4,000 acre ranch.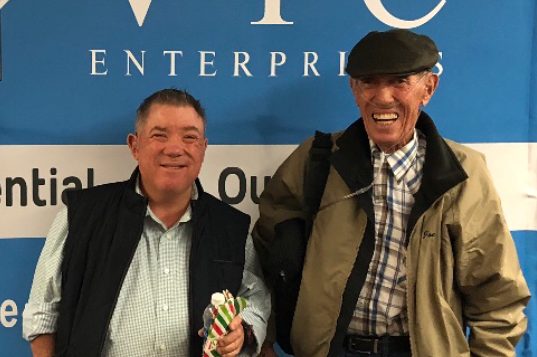 At about 5 a.m. on Christmas morning, Joe Carrari's son, George Carrari, died in his sleep of a heart attack. In an email titled "Goerge Carrari: Died this morning, heart attack," McKiernan informed Joe Carrari's relatives of George's death and again warned several times that they were not welcome at the ranch.
"Very sad news," McKiernan said in his email. "I am told that George's caretaker found him blue and unresponsive in his bed this morning. Joe has requested that no family members attempt to contact him or come to the ranch for any reason. No family members will be allowed entry to the ranch. The Dudley Funeral Home will release information later about contact with George."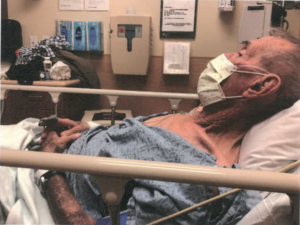 Less than an hour later, several of Joe Carrari's relatives including his grandchildren Tiffany Carrari (an attorney with the San Luis Obispo based firm of Andre, Morris & Buttery), Gina Kopcrack, Peter Kopcrack, Anna Kopcrack and Joe Carrari's daughter Linda Kopcrack and his son Ronald Carrari,trespassed onto the property and into Joe Carrari's home through an unlocked back door.
Inside, the group first encountered George Carrari's caregiver Sylvia Ramirez. Tiffany Carrari allegedly struck Ramirez as she walked through a back room and headed for the living room, according to the sheriff's report.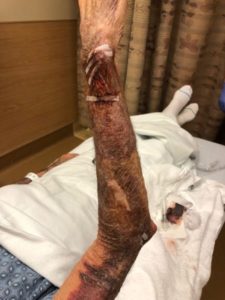 Shouting you murdered George, Linda Kopcrack grabbed Joe Carrari's personal assistant Angelina Dettamanti by the hair and began smashing her head into a grandfather clock in the living room, several witnesses told deputies. Tiffany Carrari then began kicking and striking Dettamanti in the head.
On the other side of the room, Gina Kopcrack pushed Joe Carrari to the ground where someone kicked and hit him, according to reports. Ramirez then provided first aid to Joe Carrari, who was badly bruised and tore his skin in the scuffle.
"When I looked to the right, I saw Joe getting off the ground and I noticed he was bleeding profusely from his arm. I focused on Joe and tried to get him to sit down on a couch nearby because he still had his oxygen mask on and was now bleeding profusely," Ramirez said in a declaration. "I grabbed a towel to stop Joe's bleeding, and when I looked up I saw Linda attacking Angelina again, trying to slam Angelina's head on the grandfather clock in Joe's living room. All the while the rest of the assailants were yelling at Joe that he 'killed' George."
While the trespassers cursed and hurled allegations of murder, Dettamanti took out her phone and began recording the home invasion.
"You're a fucking psycho murderer," Tiffany Carrari says on the video recording. "You stupid fucking murdering bitch."
Shortly after Linda Kopcrack attempted to snatch Dettamanti's phone, the video ends.
A few minutes later, six deputies arrived at the ranch and began interviewing victims, suspects and witnesses.
Gina Kopcrack told deputies she had pushed her grandfather after he "tried to swat at them" and in an attempt to protect her mother, Linda Kopcrack. Gina said she believed Dettamanti had killed George for money, according to the sheriff's report.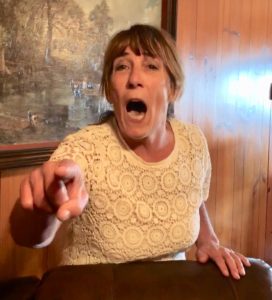 Both Joe Carrari's daughter Linda Kopcrak and his granddaughter Tiffany Carrari painted Dettamanti as the aggressor and claimed they had not struck or kicked anyone. Even so, Linda Kopcrack admitted she tried to take Dettamanti's phone.
Despite the report's findings of trespass, elder abuse, and assault with a deadly weapon, no charges were filed. In their report, deputies determined Gina Kopcrack had committed elder abuse, Linda Kopcrack was accused of assault with a deadly weapon and Tiffany Carrari was accused of assault with a deadly weapon and battery, according to the police report which has since been sent to the Santa Barbara County District Attorney's Office for review.
Both Joe Carrari and Dettamanti were transported to Marian Regional Medical Center in Santa Maria where they were treated for their injuries. Joe Carrari was later readmitted to the hospital for four days of treatment, while Dettamanti was treated for a concussion and released the same day.
After returning to the sheriff's station, Deputy John Doupe contacted Santa Barbara County Judge James Regali, who immediately granted emergency protective orders. Effectively restraining orders, the protective measures require six of Joe Carrari's relatives to stay away from him, as well as Dettamanti, Ramirez and Jaun Herrada, a witness to the home invasion.
McKiernan has since obtained seven elder abuse restraining orders against Joe Carrari's relatives, which are pending further hearings in court. Joe Carrari's relatives continue to accuse Dettamanti of murder, and also of manipulating Joe Carrari in an attempt to isolate the 83-year-old for financial gain.