RV destroyed in suspected arson fire
January 3, 2016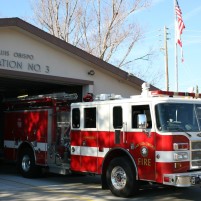 An RV on Horizon Lane in San Luis Obispo was completely destroyed Saturday night by a another suspected arson fire.
Shortly before 9:40 p.m., an arsonist is suspected of throwing a bucket of gasoline through the window of the RV parked on Horizon Lane behind the Food 4 Less. The owner of the RV was able to escape uninjured.
The fire then spread to an adjacent single-wide trailer. Firefighters were able to save the trailer.
Investigators are working to determine the cause of the RV fire.
In 2015, firefighters and police responded to more than 40 fires in San Luis Obispo that appeared to have been intentionally set, police said.
In December, the San Luis Obispo Police Department announced it was offering a reward of up to $1,000 for information that leads to the arrest and conviction of a serial arsonist or arsonists.
Last week, Police arrested Dion Bridewell, 45, for setting a fire in San Luis Obispo on Dec. 28. Officers have yet to determine, though, whether Bridewell is responsible for the other unsolved fires in the city that investigators determined were intentionally set. Bridewell is no longer in custody, according to the county sheriff's office website.