DA charges SLO Craigslist user for seeking sex with minors
March 7, 2015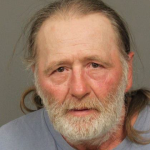 Two days after San Luis Obispo police arrested a 55-year-old sex offender for soliciting sex with a minor, the county district attorney's office filed charges against the man.
On Wednesday, police found Robert George Roe naked in a San Luis Obispo hotel room. Roe intended to have sex with a detective who was posing online as a 16-year-old girl, according to the police department.
Prosecutors charged Roe with two felonies on Friday. Roe is charged with one count of arranging a meeting with a minor for lewd purposes and one count of contacting a minor with the intent to commit a sex offense.
Police say that a concerned citizen informed officers that Roe had posted a Craigslist ad that asked "young girls" to meet for sex. Roe included a photo of his genitals in the Craigslist ad.
The detective responded to the ad by calling Roe on a cell phone. Police said he was sexually graphic in the exchange, and he told the detective that they could have sex in his van or in a hotel room.
In 1987, Roe was convicted of molesting a minor in Arizona.
Roe is currently in jail on $30,000 bail. He is due to appear in court on Monday for an arraignment hearing.