Ten arrested in California school sex case
March 16, 2015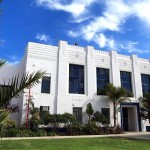 Los Angeles police arrested 10 male Venice High School students who are accused of sexual assaulting two female students. [KTLA]
Police are still searching for four students from a group of 14 boys who allegedly pressured the two girls into sexual acts, including forced oral copulation. The suspects, who range in age from 14 to 17, allegedly made verbal threats regarding the victims' reputations.
"Some of these were forced sexual acts — sexual assaults," Los Angeles Police Commander Andrew Smith told reporters. "Others were consensual with individuals who are too young to give consent."
Officers made eight of the arrests at the high school on Friday. Investigators say the sex acts occurred both on and off-campus and date back to Dec. 2013.
Detectives have reportedly found explicit pictures and videos of the victims. Some of the explicit images reportedly circulated on social media.
Most, if not all, of the suspects are believed to be Venice High School football players.
A member of the football team who identified himself as Ben told KTLA that the girls wanted to mess around with campus jocks to be popular. Then the girls decided to make waves when the campus glare became unflattering, Ben claimed.
Los Angeles Unified School District officials described the arrests as a painful moment and said that sexual misconduct will never be tolerated. The district indicated that it would send crisis counselors to the school to help distressed students.