No Hill in Avila Beach, debate civil
January 29, 2016
By KAREN VELIE
The Avila Beach Community Center was packed during Thursday night's San Luis Obispo County District 3 supervisor debate, the first of the political season. The debate was unmoderated, without time limits and included only questions from members of the audience.
Sitting  Supervisor Adam Hill made a big show of skipping the debate, sending a statement to the New Times that he would not attend because he thought the open format could lead to a lack of civility and personal attacks. However, he failed to inform the debate sponsor, Integrity SLO, that he would not be attending.
Nevertheless, the debate was unusually civil as candidates San Luis Obispo Councilman Dan Carpenter and former Grover Beach Mayor Debbie Peterson  fielded questions from the public.
When asked about his views on the urgency water ordinance passed by the current SLO County Board of Supervisors,  Carpenter questioned the passing of a law that requires a farmer who practiced dry farming during the drought to be required to buy water rights to switch to irrigated crops.
"I think they jumped the gun," Carpenter said. "It takes away private property rights."
Peterson also voiced her opposition to the ordinance saying the $1 million spent on monitoring water would have been better spent evaluating water options.
"It was a crock," Peterson said. "We need to take that million dollars and get county workers to evaluate water options… and make a decision."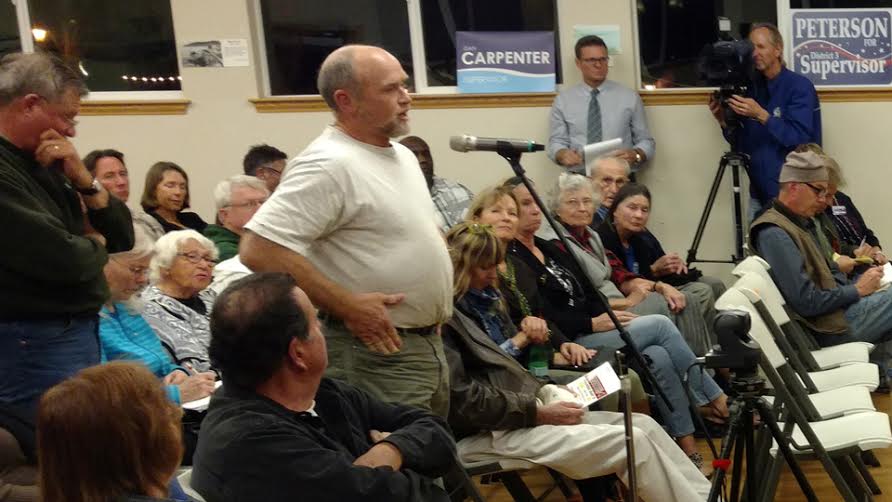 In response to questions about the possibility of rolling back county employee salaries that with benefits have exceeded $300,000 to $400,000 a year, Peterson said public employment used to be viewed as service to the community. She questioned widening gaps in pay between management and staff.
Carpenter said that there is a need to negotiate salary reductions. He also voiced his opposition to using comparable cities chosen by the bargaining units to support pay increases.
At the podium, several members of the public voiced their approval of the format and also chastised Hill for not attending the debate.
"This is an amazing evening," an Avila Beach resident said during the question and answer period. "Adam Hill is a friend of mine and it is sad that he did not think enough of Avila to show up."
Get links to breaking news, like CCN on Facebook.