Thieves on the march in SLO
January 29, 2016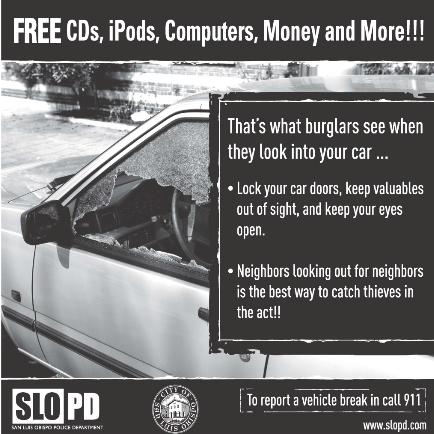 San Luis Obispo police say there has been a recent rise in thefts and burglaries in the city.
The police department has received more than 400 reports of "theft-related incidents" since Dec. 1, according to a SLOPD news release. The incidents include vehicle and residential burglaries, and a majority of the cases have involved unlocked vehicles or unlocked homes.
SLOPD is stepping up citywide patrols, as well as public education about the importance of locking vehicles and homes and removing valuables or placing them out of sight. As part of the education campaign, San Luis Obispo police have placed an electronic message board by Santa Rosa Park that reminds residents to "lock up."
Police have also conducted on-campus campaigns at Cal Poly and Cuesta College. In addition to locking doors and windows and keeping valuables out of sight, officers say residents should call the police department if they see something suspicious.