Planning commission rejects Laetitia Winery development
February 12, 2016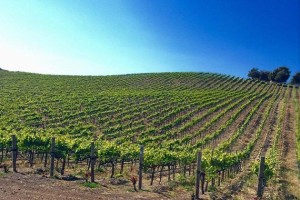 Months after indicating it would approve the project, the San Luis Obispo County Planning Commission voted Thursday to reject a proposed housing development at the Laetitia Vineyard and Winery in rural Arroyo Grande. Planning commissioners denied the project on a 3-1 vote after two state agencies raised last-minute concerns about road access to the development site.
Laetitia winery is located on a 1,910-acre property between Arroyo Grande and Nipomo. The vineyard is zoned for an agricultural cluster, meaning residential development can occur there, as long as the homes are clustered together and have minimal impact on surrounding farmland.
Initially, county staff recommended the planning commission deny Selim Zilkha's proposal to construct 101 homes grouped in eight clusters because of view shed issues, residential density and traffic congestion. Neighbors also voiced concerns about water use.
At the request of the commission, the applicant made several changes, including scaling down the project from 101 to 82 homes. The commissioners then voted unanimously to direct staff to provide findings supporting the approval of the project.
When the planning commission reconvened on Thursday, Cal Fire and Caltrans raised objections to the planned secondary access road.
State code requires there be an alternative route to access a development in the case of an emergency. Previously, project planners had reached an agreement with Cal Fire that emergency responders could drive through the winery to reach the homes.
Cal Fire reversed its position on Thursday. The agency claimed secondary routes must also be available for daily use.
Project planners had proposed blocking off the winery route to daily traffic in order to satisfy concerns raised by Caltrans officials. Caltrans objected to the possibility of added traffic at the Highway 101 intersection in front of the winery.
After Cal Fire and Caltrans did not reach a compromise with the developer, the planning commission again reversed its position. Commissioner Jim Harrison cast the lone vote in favor of the project, and Commissioner Eric Meyer abstained from voting.
The planning commission ruling will likely be appealed to the board of supervisors.