SLO house fire sweeps across street
June 20, 2016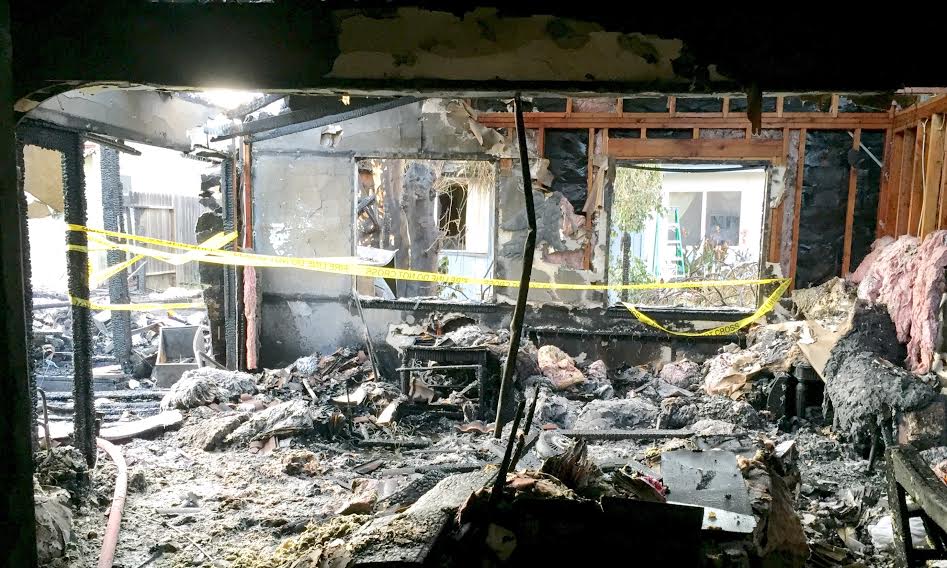 A house fire that is believed to have been started by a barbecue blew across a San Luis Obispo street Sunday and knocked down power lines. One person suffered burns in the blaze, and the fire left multiple residents displaced.
At 4:52 p.m., the San Luis Obispo Fire Department received a call reporting smoke in the are of 1150 Madonna Road. More 911 calls came within seconds.
Within five minutes, firefighters arrived at the scene of the fire in the 1100 block of Atascadero Avenue. Fire crews found smoke pouring from the interior and attic vents of a single-story, single-family home.
All of the residents of the home had escaped before firefighters arrived. One of the residents suffered burns to his chest as a result of the fire's ignition, as well as attempts to extinguish the blaze using a garden hose. The burns were not life threatening. No other residents or responders suffered injuries.
Firefighters who entered the house encountered a wall of fire in multiple rooms, including a common area and at least one bedroom. Fire crews attacked the blaze from both the interior and the roof of the home. Firefighters used chainsaws to cut holes in the roof allowing smoke and gases to escape.
Strong winds fanned the flames and caused embers to ignite multiple brush fires across the street from the home. The fire caused energized power lines to fall into backyards, endangering firefighters and residents. At one point, about 175 customers lost power.
As the blaze grew, fire crews responded from surrounding communities. Firefighters came from as far away as the Five Cities.
PG&E crews also responded to the scene to repair two power poles that were heavily damaged.
Preliminary investigations indicate the fire began on a wooden deck in the backyard of the house, likely due to use of a barbecue. A considerable amount of belongings were on the wooden deck at the time.
The Red Cross is assisting the residents displaced by the fire. It is unclear how many residents were displaced.