Multiple fires burn on the Central Coast
July 10, 2017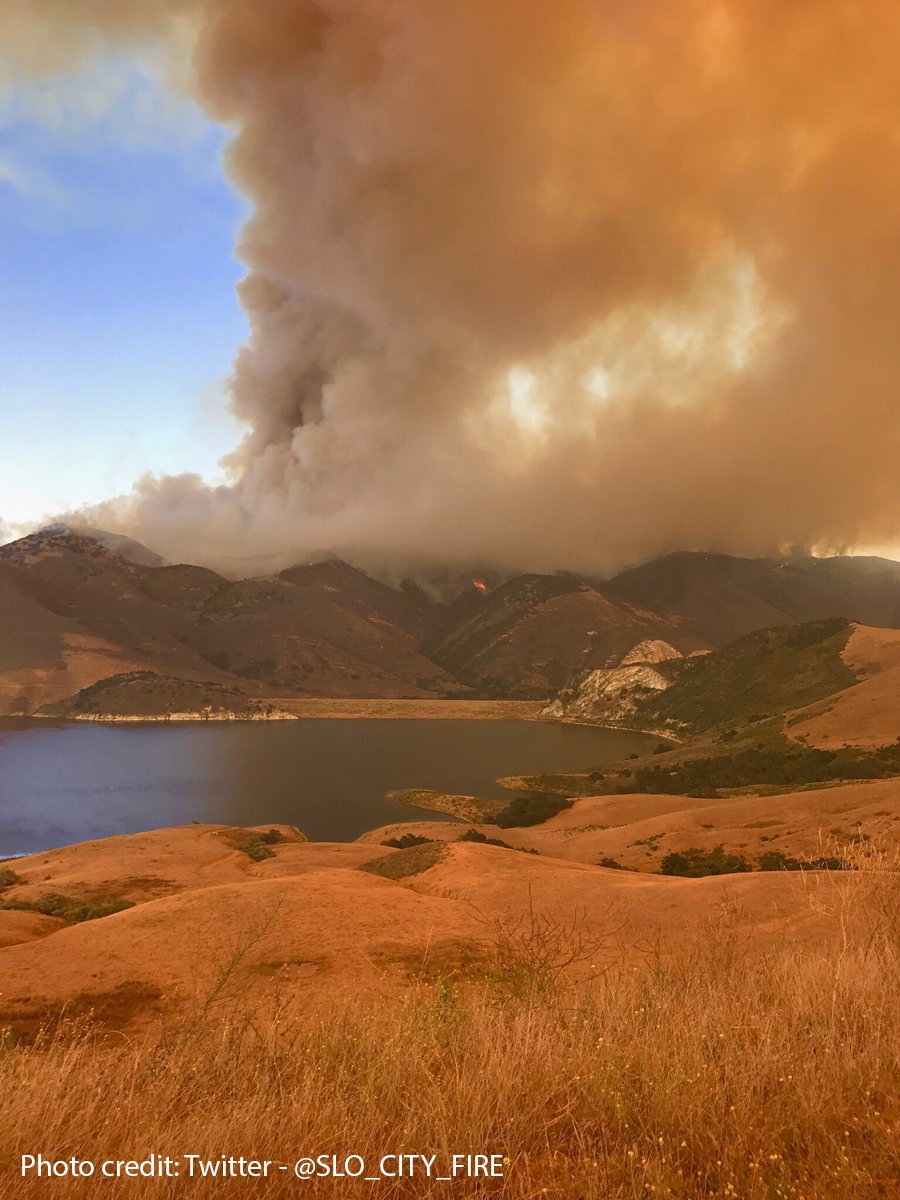 Fires are burning on both the northern and southern edges of San Luis Obispo County, as well as in Santa Margarita. Additionally, a fire is burning near Lake Cachuma in Santa Barbara County, and a blaze burned briefly in Morro Bay over the weekend.
The fast-moving Alamo Fire along the Santa Barbara-San Luis Obispo County line has burned 28,926 acres and is 15 percent contained, as of Monday morning, according to Cal Fire. The fire ignited Thursday afternoon off Highway 166 near the Twitchell Reservoir in San Luis Obispo County.
It has burned on both sides of the Santa Barbara and San Luis Obispo county line, with movement based on wind patterns. The Alamo Fire has destroyed one home and is threatening 133 structures.
Evacuations orders were issued for Tepusquet Road south of Blazing Saddle to Santa Maria Mesa Road, White Rock Lane and Colson Canyon.
Around SLO County's northern boundary, the Parkfield Fire has burned 1,816 acres and is 80 percent contained. The Parkfield Fire started around 6:30 p.m. Saturday near the San Luis Obispo-Monterey County line. The blaze has been burning in an area between San Miguel and Parkfield.
On Saturday evening, a firefighter suffered second degree burns while battle the blaze and was evacuated by air. The Parkfield Fire has also destroyed at least one structure.
At about 7:15 p.m. Sunday, the Stone Fire sparked along Huer Huero Road east of Santa Margarita. The Stone Fire has burned 340 acres and is 40 percent contained, as of Monday morning.
The Stone Fire has reportedly burned four structures.
In Santa Barbara County, the Whittier Fire is burning near Lake Cachuma south of Highway 154. As of Sunday evening, the Whittier Fire had burned 7,800 acres and was just 5 percent contained.
Lastly, Morro Bay fire officials say a vegetation fire caused by illegal use of sky lanterns broke out Saturday night on a steep hillside adjacent to Zanzibar Street. Firefighters responded quickly and contained the blaze to one acre.