The richest bankrupt people in San Luis Obispo
September 27, 2018
Editor's Note: This is the second in a series about developers Ryan Petetit and John Belsher, their bankruptcies, tax liens and lawsuits.
By KAREN VELIE
Despite having real estate projects in bankruptcy, dozens of tax liens and multiple lawsuits from contractors and vendors suing them for failing to pay their bills, developers Ryan Petetit and John Belsher appear to be enjoying the high life. [Cal Coast Times]
Belsher and Petetit and their PB Companies started out big with more than a dozen projects valued at more than $300 million. They drew multiple commercial lenders and private parties that invested in their projects. But Belsher and Petetit failed to finish most of their projects while the interest obligations on their many loans continued to mount.
As a result, lenders filed more than a dozen notices of defaults on multiple limited liability companies owned by Belsher and Petetit forcing the pair to file three bankruptcies and to enter into agreements to sell some of the projects. For the past three years, multiple contractors and vendors have sued companies owned by Belsher and Petetit for failing to pay their bills.
In the past few years, social media posts show Belsher vacationing in France, Mexico and Hawaii. While at home, Belsher golfs with SLO Police Chief Deanna Cantrell and socializes with San Luis Obispo County Supervisor Adam Hill.
On many occasions, the developers have rented private jets for business and personal travel. In 2014, Petetit rented a private jet to take him and his brother to the World Series.
Last year, Petetit and a PB Companies employee watched the divisional playoffs from seats located behind home plate.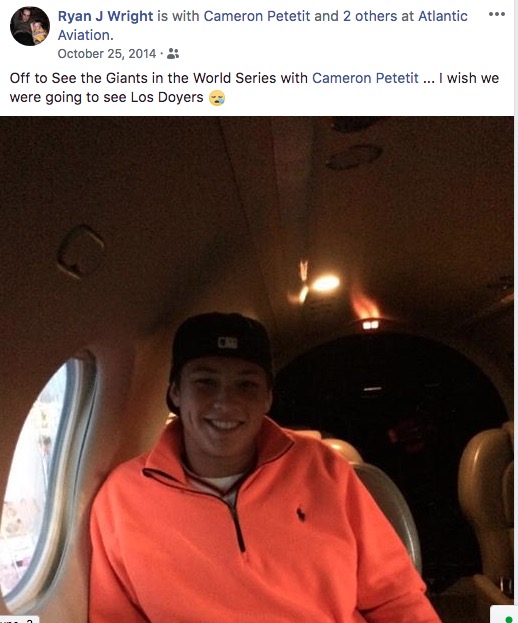 Back in SLO County, Petetit and Belsher face two lawsuits filed by JWR Partners, a real estate development company. The cases had their beginnings in 2016.
On July 21, 2016, Belsher and Petetit signed an agreement to sell a 41 unit partially completed development on Las Tablas Road in Templeton, dubbed Vineyard Creek, for approximately $6 million. According to a complex purchase and sale agreement, Belsher and Petetit would retain ownership of the property to secure a $3.3 million purchase note.
The purchaser, JWR Partners, would then build and sell the homes with a portion of the proceeds going to a company owned by Belsher and Petetit.
On June 24, 2018, JWR Partners filed a lawsuit against Belsher and Petetit claiming the pair diverted the entire proceeds from one of the homes to themselves. After the home sold, the escrow company was supposed to wire $317,768 to an account owned by JWR Partners. But Belsher sent revised wire instructions diverting the money into one of his accounts, according to the lawsuit.
"With no right to collect the remaining escrow funds and without permission from JWR, defendant intentionally and substantially interfered with JWR's property by instructing escrow to redirect the escrow funds due to JWR and misappropriating the funds for defendants' own use and enjoyment," according to the lawsuit.
A month later, JWR Partners file a second lawsuit against Belsher and Petetit for failure to transfer ownership of 21 lots in the Oak Knoll subdivision in Tempelton after Belsher and Petetit received $3,465,000 for the property.
Meanwhile, county records show dozens of tax liens against multiple companies owned by Belsher and Petetit including 12 for PB Companies and 15 for Axis Engineering Group.