Aspiring thief caught on camera in Paso Robles
March 27, 2015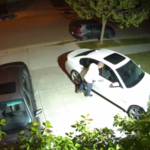 Paso Robles police are searching for a man who has been scavenging for items to steal from vehicles at night.
Early Wednesday morning, a resident of the 1600 block of Leah Way reviewed home surveillance footage and noticed a man looking into and attempting to enter several parked cars. The attempted theft occurred at approximately 3:06 a.m. according to the Paso Robles Police Department.
Surveillance footage does not show the suspect successfully breaking into any vehicles. But, around the same time, two vehicles were broken into nearby in the 300 block of Susannah Lane, police say.
The suspect is described as a white male in his 20s who was wearing blue jeans and a white t-shirt over a long-sleeved white shirt. He was clean-shaven and had a shaved head.
Police also say the suspect appeared to be wearing a glove on his right hand to conceal his identity. An investigation into the case is ongoing.
Anyone with information about the case is encouraged to call the police department at 327-6464. Those who have pertinent information, but wish to remain anonymous, may call Crime Stoppers at 549-STOP.