SLO County to cut down on prosecuting prostitutes
March 18, 2015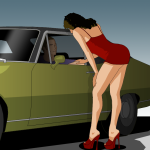 The San Luis Obispo County District Attorney's Office plans to, by in large, stop prosecuting prostitutes. [Tribune]
Prosecutors have announced that they no longer view prostitutes as criminals. Rather they are victims of exploitation or forced labor.
Instead of prosecuting prostitutes, the district attorney's office says it plans to help lead them away from their abusers and into treatment programs, counseling or housing. In order to accomplish the mission, prosecutors are teaming up with local law enforcement to launch a human trafficking task force.
Prosecutors will still file charges against prostitutes in particular cases. For instance, if the prostitute is younger than 18, prosecutors often see charging the girl as the only way to get her into the system where she can receive help.
District Attorney Dan Dow told the Tribune that those who purchase sex in San Luis Obispo County will continue to be prosecuted. Prosecutors will now refer to people who buy sex as "abusers" or "traffickers."
Dow also said that it is inappropriate for police to arrest prostitutes and send their booking photos out to the media.
California law states that engaging in and soliciting prostitution are both misdemeanors. Between Jan. 1, 2014 and March 12, 2015, San Luis Obispo County courts convicted 13 people for engaging in prostitution and 14 for soliciting prostitution.