SLO opens $2.2 million skate park
March 2, 2015
The city of San Luis Obispo opened its $2.2 million skate park on Saturday with a ribbon cutting ceremony that included council members, top staffers and dozens of skateboarders.
The new 15,500 square foot facility, which is located at Santa Rosa Park, includes an amphitheater, a plaza for public events and $240,000 worth of public art, in addition to space for skating. Numerous community members are enthused about the skate park, though some have questioned its necessity.
City officials discussed building the skate park for years, initially making it a council goal in 2007. But, the city waited until 2014 to allocate funds for the project and to award a construction contract.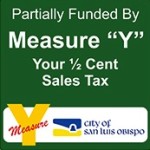 Construction began last year, just months prior to a citywide vote on the extension of a half-cent sales tax. Officials said that $1.2 million worth of city sales tax revenue went toward the creation of the skate park.
Last April, Riverside County-based ProWest Constructors received a $1.7 million construction contract to build the skate park. Some city residents faulted the council for awarding the contract to an out-of-town firm.
Atascadero-based Pickard and Butters Construction submitted the lowest bid for the project, but the city engineer ruled that the company lacked experience. The council then voted 4-1, with Councilman Dan Carpenter dissenting, to award the bid to ProWest, which is based in the city of Wildomar.
For several years, young skateboarders in the community lobbied the council to build the skate park. Many skateboarders attended a city goal-setting workshop in 2013, and the council responded by making the project a priority for the current two-year budget cycle.
The skate park is now open daily from 7 a.m. to 10 p.m. Use of the park is free of charge.