Santa Barbra County fire fueled by Santa Ana winds
October 29, 2015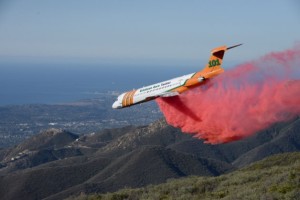 In the hills above Montecito in Santa Barbara County, a more than 65-acre brush fire is spreading rapidly as northeast winds reach 20 mph with gusts of up to 40 mph.
At about 5:15 a.m., the blaze broke out near East Camino Cielo Road in the Los Padres National Forest, according to the Santa Barbara County Fire Department. No homes are currently threatened.
However, residents have been warned that evacuations may be ordered for homes north of Highway 192 between Cold Springs and Buena Vista Drive and south of East Camino Cielo. More than 4,000 people are facing evacuation.
Crews from multiple Santa Barbara County fire agencies are battling the flames. Four water-dropping helicopters and six air tankers are fighting the fire from the air.