Locals remember Glenn Frey
February 5, 2016
OPINION by KEITH GURNEE
Jan. 18, the day that the Eagle's brilliant co-founder Glenn Frey died. For all of us who love rock 'n roll, it was one of those moments you'll never forget where you were when you heard the news.
Flash back to March 16, 1974, an amazing night to be remembered. For those of us fortunate locals who attended the Red Wind Indian benefit held in the old Quonset hut auditorium at Cuesta College, it was the concert of concerts. How it happened was a remarkable convergence of good karma.
After being elected to the San Luis Obispo City Council in 1971 as the first Cal Poly student to serve on that body, then Mayor Kenneth Schwartz appointed me to serve on the Economic Opportunity Commission (EOC), a quasi-governmental entity created as part of President Lyndon Johnson's War on Poverty during the 1960s.
In accepting that position, I quickly became the commission's chairman. Before I knew it, I was way over my head, having to break up two people trying to strangle each other at my first meeting. I found a surprising ongoing tension and bitterness between the low income factions of that era. But I soon came to know John Fitzrandolph, another resourceful Cal Poly grad still in his mid-20s served as "Community Liaison" for the EOC, who was to have a major impact on the organization.
Connecting With the Red Wind Indian Foundation…
Charged with writing grants and providing advocacy services for those facing poverty in San Luis Obispo County, John got to know an organization that needed the type of help he could offer: the local band of Red Wind Indians who were trying to buy a 20 acre parcel some 22 miles east of Santa Margarita as the home for their tribe.
In my visits to the EOC office, I often saw John conversing with a distinctive Native American gentleman by the name of Semu Huaute, better known as "Grandfather, a Chumash medicine man who served as the spiritual leader of the group.
Fitzrandolf jumped at the chance to help the Red Winds and secured several grants and technical assistance to help the tribe purchase and farm the property they occupied. In the process, he soon discovered that Grandfather had some notable connections to the rock 'n roll industry, including friendships with Neil Young and a new band starting to flex its musical muscles, the Eagles.
It was not long before John hatched the idea to have EOC sponsor a fundraising event to help the Indians pay off their property: a rock concert featuring Neil Young and the Eagles at Cuesta College. With the blessing of the EOC, John got to work and his efforts came to fruition on an unforgettable night some 42 years ago.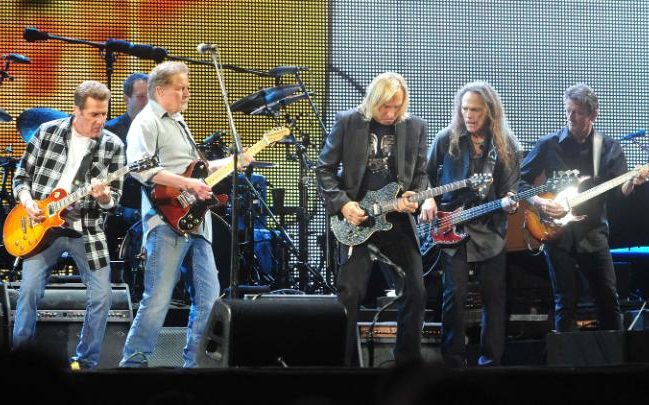 The Rockers Come to Town…
It was the night of March 16, 1974 and what a night it turned out to be. For $5, the concertgoers got far more than their money's worth, while raising $10,000 for Red Wind.
Each of the two performances that night began with the Red Wind Indian's drum ceremony. Next, Neil Young, who had gifted two Buffalo to the tribe earlier that day, then launched into "Helpless" with his thin reedy alto followed by his classic "Heart of Gold." Then came "Cinnamon Girl" with his bombastic guitar licks as he delved deeper into his body of work. And then on came the Eagles to join Young on his finale, "Down By The River." The place went nuts!
Some who attended had not heard of the Eagles, who were just starting to hit the radio airwaves. But when they left, they knew they had heard something special. The distinctive harmonies behind the songs written by Frey and drummer Don Henley were there for all to hear starting with "Witchy Woman." Then came their string of hits including "Take It Easy," "Peaceful Easy Feeling," "Lyin' Eyes," and "Already Gone." Bernie Leadon's banjo licks on "Early Bird," Randy Meisner hitting the high notes on "Take It To The Limit," and Don Henley's "Best of My Love" brought the house down.
When the performance concluded, we all just stared at each other in disbelief at being so fortunate to be in that place at that time. Little did the organizer of the concert, John Fitzrandolph, know that this successful concert would develop into his start as a rock promoter in his own right.
Today…
Fast-forward 42 years to Jan. 18, and the death of Glenn Frey. Upon hearing the news, I immediately remembered him at the concert where he was the undisputed leader of what was to become the best-selling band of the 20th century. He was a skinny little guy with long brown straight hair and a thin mustache framing his face. It was hard to believe he was gone, taken by the same ailments that almost took my wife in 2014.
As the co-writer of many of his songs, drummer Don Henley called Frey "The Lone Arranger." By watching Showtime's "History of the Eagles"– which has been aired frequently lately—you can really get a feel for how gifted Frey and his band-mates have been.
To me, the Eagles have been nothing less than America's answer to the Beatles. Their prolific work captured the essence of the 1970s—continuing into the next millennium– as no other band could.
Farewell Glenn Frey. Thank you for your life and for sharing your special gifts on that unforgettable night in 1974 and for the rest of your creative life.
Keith Gurnee is a Cal Poly graduate, a former member of the San Luis Obispo City Council and a principal at RRM Design Group. Gurnee retired from RRM in 2013 and was elected as president of the California Planning Roundtable, a state-wide think tank organization.