6 delicious dishes made with seasonal fruits and vegetables
July 7, 2016
Peaches, blackberries and watermelon are three seasonal favorites for July. The following recipes were provided by Spencer's Fresh Markets in Morro Bay and Santa Maria, both stores are carrying locally grown fruits and vegetables.
BBQ Chicken with Peach and Feta Slaw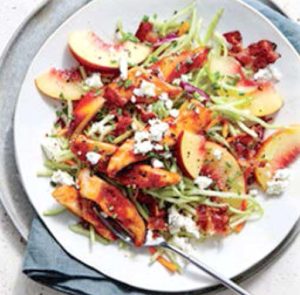 Ingredients:
5 tbsp. olive oil, divided
2 tbsp. sherry vinegar
1/2 tsp. freshly ground black pepper, divided
3/8 teaspoon kosher salt, divided
1 1/2 cups sliced fresh peaches (about 2 medium)
1 (12-oz.) pkg. broccoli slaw
3 (6-oz.) skinless, boneless chicken breasts, cut crosswise into 1-in. strips
1/4 cup barbecue sauce
1 tbsp. chopped fresh chives
1 oz. feta cheese, crumbled (about 1/4 cup)
2 center-cut bacon slices, cooked and crumbled
Directions:
1. Combine 4 tbsp. oil, vinegar, 1/4 tsp. pepper, and 1/4 tsp. salt in a large bowl, stirring with a whisk. Add peaches and slaw to vinegar mixture; toss gently to coat.
2. Sprinkle chicken evenly with remaining 1/4 tsp. pepper and remaining 1/8 tsp. salt. Heat remaining 1 tbsp. oil in a large nonstick skillet over medium-high heat. Add chicken to pan; cook 6 min. or until done. Place chicken in a large bowl. Add barbecue sauce to bowl; toss.
3. Divide slaw mixture evenly among 4 plates; top evenly with chicken strips. Sprinkle with chives, feta, and bacon.
Watermelon Feta Blackberry Skewers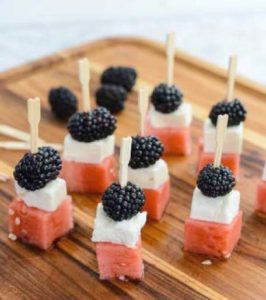 Watermelon feta blackberry skewers are the perfect easy and healthy appetizer recipe. Each bite gives you a refreshing bit of watermelon, salty feta and sweet blackberry.
Ingredients:
1 small seedless ripe watermelon, cut into 1 inch cubes
6 ounces of Feta cheese, cut into 1 inch cubes
Fresh ripe firm blackberries
Small wooden skewers
Directions:
Skewer watermelon chunks, feta and blackberry. Place on serving platter and store in refrigerator until ready to serve. Makes 24.
Summer Squash Pizza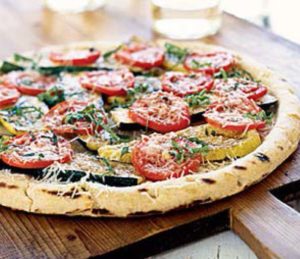 Ingredients:
1 teaspoon olive oil
1 teaspoon balsamic vinegar
1/8 teaspoon salt
1/8 teaspoon freshly ground black pepper
1 medium zucchini, cut lengthwise into (1/4-inch-thick) slices
1 medium yellow squash, cut lengthwise into (1/4-inch-thick) slices
Cooking spray
1 (12-inch) packaged pizza crust
2 plum tomatoes, cut into (1/8-inch-thick) slices
1/4 cup (1 ounce) finely grated pecorino Romano cheese
2 tablespoons thinly sliced fresh basil
1/2 teaspoon finely chopped fresh oregano
Directions:
1. Prepare grill.
2. Combine oil, vinegar, salt, pepper, zucchini slices, and yellow squash slices in a large bowl, tossing gently to coat. Place squash mixture on grill rack coated with cooking spray; grill two minutes on each side or until tender.
3. Reduce grill temperature to medium.
4. Lightly coat pizza crust with cooking spray; grill one minute on each side or until lightly toasted. Arrange zucchini and squash over crust. Arrange tomatoes over squash; sprinkle with pecorino Romano cheese. Grill five minutes or until thoroughly heated. Remove from grill; sprinkle with basil and oregano.
Summer Fruit Daiquiri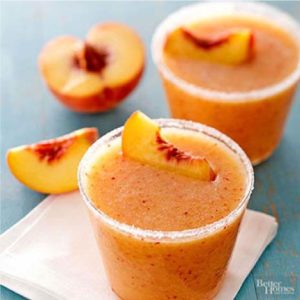 Ingredients:
3 cups sliced peeled fresh peaches; unsweetened frozen peach slices, thawed; fresh or frozen unsweetened strawberries, thawed; fresh or frozen cubed mango, thawed; or cubed, seeded watermelon
1/2 – 12 oz. can (3/4 cup) frozen limeade or lemonade concentrate, thawed
1/4 cup (2 oz.) light rum or orange juice
2 tablespoons powdered sugar
2 cups ice cubes
Fresh peach chunks, small fresh strawberries, mango cubes, or watermelon cubes (optional)
Directions:
In a blender combine the 3 cups fruit, the limeade concentrate, rum, and powdered sugar. Cover and blend until smooth. With blender running, gradually add ice cubes through opening in lid until mixture is desired thickness. Serve in glasses. If desired, garnish daiquiris with fruit pieces threaded on wooden skewers.
Greek Yogurt with Warm Black and Blueberry Sauce
When making this Greek yogurt with warm black and blueberry sauce in the summer, substitute fresh berries for frozen. This sauce also pairs well with biscuits or as a stand-in for syrup on pancakes.
2/3 cup frozen blueberries
2/3 cup frozen blackberries
1/2 cup water
1/4 cup sugar
2 tablespoons fresh lemon juice
1 tablespoon butter
2 cups plain 2% reduced-fat Greek yogurt
Directions:
1. Combine first five ingredients in a small saucepan. Bring mixture to a boil. Reduce heat to medium-low; gently boil 10 minutes or until sauce thickens. Stir in butter.
2. Spoon 1/2 cup yogurt into each of four bowls; top each serving with about 1/4 cup sauce. Serve immediately.
Frozen Frosted Bites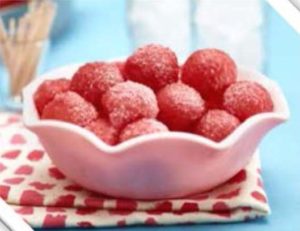 Ingredients:
1 small watermelon
3 oz. pkg. watermelon or other red gelatin dessert (Jello)
Directions:
1. Using a melon baller, scoop out 35 to 40 small watermelon balls. Place on paper towels and set aside.
2. Pour gelatin into a shallow bowl. One by one, gently drop a watermelon ball into the bowl, roll around, take out, and place on a plate covered with a paper towel. Repeat until all gelatin is used up.
3. Place plate of frosted watermelon balls in freezer. Allow at least 2 hrs. to make sure they're completely frozen. Remove from freezer and let sit for a few minutes before eating. Note: If serving with toothpicks, place the toothpicks in before freezing.