8 Brazilian recipes to try while watching the Olympics
August 10, 2016
Seeking to enhance your Rio Olympic watching experience, it's time to indulge in a few Brazilian recipes. The following Brazilian recipes were provided by Spencer's Fresh Markets in Morro Bay and Santa Maria.
Brigadeiros
(Brazilian Chocolate Truffles)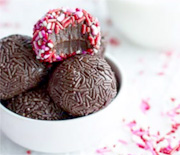 Ingredients:
1 (14 oz.) can sweetened condensed milk
2 oz. bittersweet chocolate, chopped
2 tbsp. unsweetened cocoa powder
1/4 tsp. salt
3 tbsp. unsalted butter
1 tbsp. vanilla extract
Use good quality chocolate sprinkles (or toasted pistachios, almonds, coconut or colored sprinkles)
Directions:
In a small sauce pot combine the sweetened condensed milk, bittersweet chocolate, cocoa powder and salt. Place the pot over medium high heat and bring to a gentle boil, stirring constantly with a wooden spoon.
Reduce heat to medium-low and cook 10 to 15 minutes, stirring constantly, until mixture is thick and shiny and starts to pull away from bottom and side of sauce pot. The mixture is going to get thick. Remove from the heat and stir in the butter and vanilla until melted and smooth. Pour mixture into glass bowl, cover and place in the fridge for at least one and a half hours or overnight.
Once chilled place the sprinkles (or whatever you are using) in a shallow bowl. Rub some softened butter over hands and scoop out rounded teaspoon of the chocolate mixture and roll into 1 to 1 1/2 inch balls. Roll each ball in the chocolate sprinkles (or whatever you are using). Place on a baking sheet lined with parchment paper.
Store tightly covered at room temperature up to two days or in the refrigerator up to one week.
Fried Rice Cakes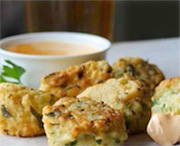 An original from Brazil. White cooked rice is combined with fresh chopped parsley and Parmesan cheese and deep-fried to perfection. Great as a side dish. Serve hot.
Ingredients:
2 cups cooked white rice
3/4 cup all-purpose flour
2 eggs
• 1/2 cup chopped fresh parsley
• 1/4 cup grated Parmesan cheese
• salt and ground black pepper to taste
• oil for frying
Directions:
Mix white rice, flour, eggs, parsley, Parmesan cheese, salt, and black pepper together with a wooden spoon in a bowl. Shape spoonful of the mixture into balls. Heat oil in a large saucepan or deep-fryer over medium heat until hot. Fry balls a few at a time until browned, about two minutes per side. Transfer to a plate lined with paper towels.
Brazilian Fish Stew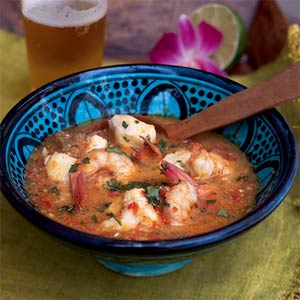 This super easy but hearty dish is full of flavor and absolutely delicious. This can be made easily on the stove top or in the slow cooker for a no-fail convenience meal. Use salmon in place of tilapia for a stronger fish flavor. Serve with hot rice or warm tortillas.
Ingredients:
3 tablespoons lime juice
1 tablespoon ground cumin
1 tablespoon paprika
2 teaspoons minced garlic
1 teaspoon salt
1 teaspoon ground black pepper
1 1/2 pounds tilapia fillets, cut into chunks
1 pound of shrimp (optional)
2 tablespoons olive oil
2 onions, chopped
4 large bell peppers, sliced
1 (16 ounce) can diced tomatoes, drained
1 (16 ounce) can coconut milk
1 bunch fresh cilantro, chopped (optional)
Directions:
Stir together the lime juice, cumin, paprika, garlic, salt, and pepper in a bowl. Add the tilapia and toss to coat. Cover and refrigerate at least 20 minutes, up to 24 hours.
Heat the olive oil in large pot over med-high heat. Quickly fry the onions in the oil one to two minutes. Reduce heat to medium. Add bell peppers, tilapia, shrimp and diced tomatoes to the pot in succeeding layers. Pour the coconut milk over the mixture. Cover the pot and simmer 15 min, stirring occasionally. Stir in cilantro and continue cooking until the tilapia is completely cooked through, another five to 10 min.
Brazilian Whole  Banana Pie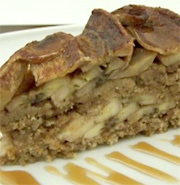 This whole banana pie is a hit in Brazil, mainly in the city of Rio de Janeiro.
Almost all the ingredients are natural, except for the margarine. It is also made with whole grains, which contribute for a good health.
It supplies a lot of energy and the bananas give an extra dose of potassium. That is why this pie is consumed by athletes and people who practice sports in general. Besides, it is simply delicious.
Ingredients:
3 tablespoons brown sugar
1/2 cup water
10 bananas, peeled and sliced lengthwise
2 cups whole wheat flour
2 cups toasted wheat germ
3 cups rolled oats
1 cup packed brown sugar
1 cup light margarine
1 tablespoon cinnamon
Preheat the oven to 350 degrees
Directions:
Sprinkle 3 tbsp. of brown sugar over the bottom of a small saucepan or skillet. Cook over medium heat until melted. Stir in water until sugar is completely dissolved. Heat to between 234 and 240 degrees F (112 to 116 degrees C), or until a small amount of syrup dropped into cold water forms a soft ball that flattens when removed from the water and placed on a flat surface. Pour the syrup into a round baking dish or deep dish pie plate and spread to coat the bottom.
Make a layer of bananas on top of the melted sugar. In a medium bowl, stir together the whole wheat flour, wheat germ, oats and 1 cup of brown sugar. Mix in the margarine using your hands, pinching it into small pieces to make a crumbly dough. Sprinkle half of this over the bananas in the dish and pat down. Top with the remaining bananas and sprinkle with about half of the cinnamon. Spread the rest of the dough over the bananas and pat the pie smooth. Sprinkle remaining cinnamon over the top.
Bake for 45 minutes in the preheated oven, until pie topping is toasted and tooth-pick inserted into the center comes out clean.
Brazilian Cheese Bread (Pao de Queijo)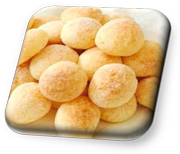 These are good either served plain, or with marinara sauce. For more variety, try adding a variety of herb seasonings, such as Italian seasoning or try substituting other cheeses for the Parmesan.
Ingredients:
1/2 cup olive oil or butter
1/3 cup water
1/3 cup milk or soy milk
1 teaspoon salt
2 cups tapioca flour
2 teaspoons minced garlic
2/3 cup freshly grated Parmesan cheese
Directions:
Preheat oven to 375 degrees
Pour olive oil, water, milk, and salt into a large saucepan, and place over high heat. When the mixture comes to a boil, remove from heat immediately, and stir in tapioca flour and garlic until smooth. Set aside to rest 10 to 15 min.
Stir the cheese and egg into the tapioca mixture until well combined, the mixture will be chunky like cottage cheese. Drop rounded, 1/4 cup-sized balls of the mixture onto an ungreased baking sheet.
Bake in preheated oven until the tops are lightly browned, 15 to 20 minutes.
Champion Dip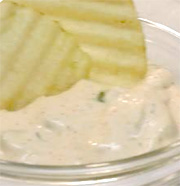 Ingredients:
18 oz. sour cream
2 cups mayonnaise
2 tbsp. lemon juice
2 tbsp. thinly sliced green onion
2 tbsp. minced fresh parsley
1 1/2 tsp. paprika
1 1/2 tsp. onion powder
1 1/8 tsp. Worcestershire sauce
1/2 tsp. granulated garlic
1/2 tsp. celery salt
1/2 tsp. minced fresh dill, or less to taste
1/2 tsp. curry powder, or less to taste
Directions:
Stir sour cream and mayonnaise together in a large bowl until smooth. Stir lemon juice, green onion, parsley, paprika, onion powder, Worcestershire sauce, granulated garlic, celery salt, dill, and curry powder into sour cream mix.
Cover bowl with plastic wrap and refrigerate until chilled and the flavors blended, at least two hours.
Olympic Gold Medal Cookies
These cookies are pure energy! Oatmeal, wheat germ, raisins and nuts will put you in first place for sure.
Ingredients:
1 cup butter, softened
1 cup light brown sugar
1 cup white sugar
2 eggs
1 teaspoon vanilla extract
1 1/8 cups all-purpose flour
1 teaspoon baking soda
1 teaspoon baking powder
1 pinch salt
3 cups rolled oats
1/2 cup wheat germ
1 1/4 cups golden raisins
1 1/3 cups chopped walnuts
Directions:
Preheat oven to 350°
Grease cookie sheets. In a large bowl, cream together the butter, brown sugar, and white sugar until light and fluffy. Add the eggs one at a time, beating well with each addition, then stir in the vanilla.
Combine the flour, baking soda, baking powder, and salt; gradually stir into the creamed mixture. Finally, stir in the oats, wheat germ, raisins and walnuts. Drop cookies by heaping tablespoonful onto the prepared cookie sheets. Wet hands and flatten cookies slightly. Cookies should be about 3/4 inch thick, and 2 1/2 inches wide before baking.
Bake for 15 to 20 min. in the preheated oven. Allow cookies to cool on baking sheet for five minutes before removing to a wire rack to cool completely.
Brazilian Lemonade
Or in other words, two-minute blender limeade
This recipe can easily be halved. Large, juicy limes with thin skin are important here, otherwise the bitter taste of the lime rind will come through. So avoid those limes with bumpy, thick skin. To be safe, I'd buy three limes so in case they aren't as juicy as you think you can supplement the 1/2 cup juice with the 3rd lime (but don't blend up the rind of the 3rd lime if you have to get the juice out of it). You can add more sweetened condensed milk depending on how sweet and creamy you want the drink to be. Also, this drink doesn't fare well being made ahead but the beauty is it is so quick to make, you can make it right when you want to serve it.
Ingredients:
2 large limes, thin skinned (see note above)
2 cups water
1 cup cold water
1/2 cup sugar
4 tablespoons sweetened condensed milk
Ice
Directions:
Cut the limes in half and squeeze out the juice. You should have approximately 1/2 cup juice. Keep the rinds and set the juice aside.
In a blender, combine the juiced rinds with 2 cups of water. Blend for one minute until the mixture is coarsely mixed and frothy (if you make this start to finish and feel the mixture is too bitter, try only blending this part for 30 seconds or 10-12 pulses). Strain the mixture through a fine-mesh strainer set over a liquid measuring cup or bowl, pressing on the solids to extract all the juice. You should have about 3/4 cup liquid, more or less. Stir in the reserved lime juice. (You can go ahead and discard the pulp in the strainer.)
To the blender, add the cold water, sugar, lime juice mixture, and sweetened condensed milk. Blend for 10-20 seconds. Add ice as desired: I added probably about 2-3 cups of ice – enough to make it cool and frosty but not thick like a smoothie. Blend until smooth. Add more sweetened condensed milk or sugar to taste, if needed. Serves four immediately.