Woman driving high and on a flat sparks California wildfires
August 29, 2016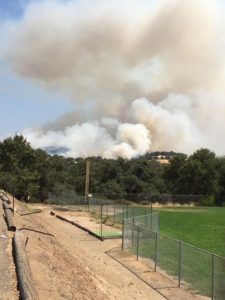 A woman driving under the influence of drugs sparked several fires in Northern California Sunday afternoon, according to Cal Fire.  The fires burned about 450 acres of vegetation in Calaveras County, as well as the woman's vehicle.
CHP officers arrested the woman, Renee Hogan, for DUI. Cal Fire officers later added several charges pertaining to unlawfully causing fires.
Hogan was driving a 2002 Kia Rio on a right rear rim that was creating sparks, according KCRA. The flames spread across a field, starting fires east of the town of San Andreas.
The blazes threatened several homes and forced some residents to evacuate.
Additionally, the blazes came close to the area burned by last year's Butte Fire. The Butte Fire burned more than 70,000 acres last September.
In addition to the DUI charge, Hogan faces one count of unlawfully causing a fire which causes an inhabited structure to burn; seven counts of unlawfully causing a fire of a structure or forestland; and one count of unlawfully causing a fire during a declared state of emergency.