Trump, Merle Haggard and promises that must be kept
December 22, 2016
OPINION by MICHAEL F. BROWN
Editor's note: A column by Republican Mike Brown will run in CalCoastNews every other Thursday, rotating with a column by Democrat Stew Jenkins.
Recoiling from the defeat of Hillary Clinton, the more astute and serious Democratic Party analysts have concluded that their party's policies had failed its historic blue-collar labor base. That base finally revolted after decades of irrelevant Democratic promises and policies, aided and abetted by Republican compromise.
Those heretofore loyal Democratic voters gave Trump victories in Michigan, Ohio, Pennsylvania, West Virginia, Iowa, Indiana, and Wisconsin – victories (some very narrow and some very large) that ran counter to the reigning political calculus – the so called blue wall.
But the Republicans shouldn't gloat. Trump, the party crasher, won because he gave voice to the "deplorables" and coalesced the long simmering grievances of conservatives, the sinking disaffected middle class of both parties, and as it turned out, real workers. Those are the wrench-turning, machine operating, truck driving folks who sweat on the job and who actually harvest raw materials, grow food, build things, make stuff, and deliver it. Erroneously, this constituency was taken for granted and assumed to be safely in the Democratic fold.
As NPR's Domenic Montanardo pointed out, the GOP, with standard-bearer Trump, made huge gains in voters lacking college degrees in the industrial north.
Like federal national security agencies in recent years, both the ever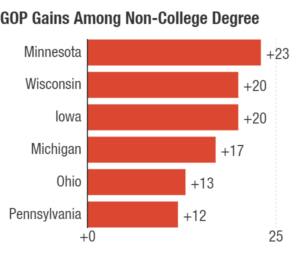 dithering checked pants Ivy League Republicans and the ever smugly social justice preaching Democratic Ivy League intelligentsia have experienced an intelligence failure. This is somewhat surprising, especially for the Democrats.
Out in America away from Malibu, Manhattan, Marin, Miami Beach, and Metro DC, the people have been crying for relief for decades, but instead, and notwithstanding which party was in charge, many of their communities have been in a death spiral since the early 70's.
Since the 30's, the Democrats have proclaimed themselves as the party of the working man and woman and in recent decades as the arbiters of social equality, environmental salvation, and political correctness. As it turns out, none of their massively accumulative and oppressively expensive initiatives, along with the accompanying $20 trillion in Federal national debt, have actually saved Hartford, Allentown, Akron, Detroit, Flint, Dayton, or hundreds more.
We watched them like clouds as they have floated by. JFK's "New Frontier," Lyndon Johnson's "Great Society," Jimmie Carter's "A Leader for Change," Bill Clinton's "We Need a Change" and Barrack Obama's "Hope and Change" never actually stopped the decline of hundreds of cities in New England, the middle Atlantic region, upper Midwest, or even some in California such as Oakland, San Bernardino, Stockton, and Richmond.
In fact, and in California, their water and environmental policies have turned the San Joaquin Valley into an economic disaster zone and social tragedy. As predicted, plastic bag bans, carbon taxes, Obama Care, piling on public pension debt, and diverting water for extinct fish haven't exactly helped expand our roads, fix our decaying public buildings, generate jobs that can support a household, or reduce California's massive welfare role.
For decades, Merle Haggard, Bruce Springsteen, Billy Joel (regardless of their stated political preferences), and many other singers have reeled off scores of songs warning about the heartbreaking plight of people in the country's declining or dying industrial cities and smaller mill towns. The late Bakersfield balladeer and country music legend Merle Haggard, discerning the thoughts and hopes of tens of millions and perhaps anticipating a Donald Trump, wrote the song "America First" (from the 2005 Chicago Wind Album):
Why don't we liberate these United States,
We're the ones that need it worst.
Let the rest of the world help us for a change,
And let's rebuild America first.
Our highways an' bridges are fallin' apart:
Who's blessed an' who has been cursed?
There's things to be done all over the world,
But let's rebuild America first.
Who's on the Hill and who's watchin' the valley?
An' who's in charge of it all?
God bless the army an' God bless our liberty,
And dadgum the rest of it all.
Clinton and Obama never really heard the songs metaphorically or understood that a vibrant and free economy with manufacturing, energy extraction/production, and capital investment is an important key to saving our obsolescing communities and their people. Not everyone can be a lawyer or a cloud solution architect and you sure can't eat, wear, or keep warm with what they produce. The promised salvation of education and job training never panned out. As Billy Joel so poignantly said in "Allentown" (from the 1982 Nylon Curtin album):
Well we're waiting here in Allentown
For the Pennsylvania we never found
For the promises our teachers gave
If we worked hard
If we behaved
So the graduations hang on the wall
But they never really helped us at all
No they never taught us what was real
Iron and coal
And chromium steel
And we're waiting here in Allentown
Trump capitalized on this failure and promises to make "America great again," which really means making our economy and all those hundreds of cities and towns great again. In turn this means abandoning the decades of land use tyranny, regulatory oppression, government expansion, and job killing taxation. Hopefully, he and the Republican Congressional majority along with their colleagues in many of the state houses will have the fortitude, resolve, and resiliency to take Merle's prescription and "liberate these United States."
They had better, because if they fail, and given the current set of promises, the backlash will thrust the enviro-socialist – collectivist elite into unassailable power. If that happens, not only will America not be great again, but it won't even be America.
Mike Brown is the government affairs director of the Coalition of Labor Agriculture and Business (COLAB) of San Luis Obispo County. He had a 42 year career as a city manager and county executive officer in four states including California. He can be reached at mike@colabslo.org.