California teachers on leave for mocking 'Day Without Immigrant' students
February 20, 2017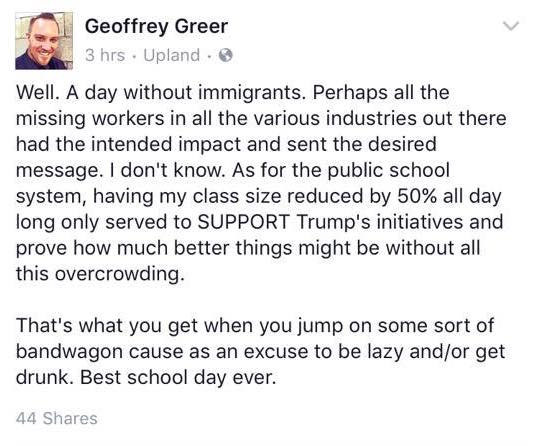 Five teachers and a counselor at a Southern California high school took to Facebook last week to express their immense satisfaction with the "Day Without Immigrants." The teachers stated that, for a day, they did not have to deal with failing and disruptive students. [Washington Post]
The comments triggered immediate backlash, and the school district placed all six employees on administrative leave. On the following day, dozens of students walked out of school early to protest the teachers' remarks.
During last week's protest against President Donald Trump and his immigration policies, numerous students were absent from Rubidoux High School in Riverside County. The campus is part of the Jurupa Unified School District, which is predominantly Latino.
Geoffrey Greer, a social science teacher at Rubidoux High, commented on the student absences in a widely circulated Facebook post.
"Having my class size reduced by 50 percent all day long only served to support Trump's initiatives and prove how much better things might be without all this overcrowding," Greer wrote. "That's what you get when you jump on some sort of bandwagon cause as an excuse to be lazy and/or get drunk. Best school day ever."
Other teachers replied by saying, it "was a very pleasant day;" "mostly failing students were missing;" and classes were less disruptive and more productive.
Guidance coordinator Patricia Crawford said the school cafeteria was much cleaner, the roads had less traffic and there were no discipline issues.
"More please," Crawford wrote.
The school district responded on Friday with a state announcing the six employees had been placed on administrative leave and that the social media posts did not reflect the school district's opinions or beliefs.
"We want to express that we are deeply concerned and distressed about the postings," the statement said.
Greer has since issued an apology in which he acknowledged he "infuriated a great many people."
"While I stand by my assertion that skipping school is no way to demonstrate one's value to society, I do apologize for the harsh tone and hurtful structure of the previous message," Greer wrote. "I hadn't meant for it to come across as quite so scathing."
The school district is conducting an investigation into the online comments surrounding the "Day Without Immigrants."
Students march at Mission & Camino Real in Jurupa Valley as it starts to rain pic.twitter.com/KpP3cl78wP

— Alicia Robinson (@arobinson_pe) February 17, 2017