Parents say their mentally ill son was tortured and killed in county jail
February 25, 2017
By KAREN VELIE
Editor's Note: This is part one in a two-part series about the death of Andrew Holland and the San Luis Obispo County Sheriff's Department's use of restraints and safety cells.
Andrew Holland knew he could not always control his schizophrenia, but he tried to explain his sometimes erratic behavior to guards at the San Luis Obispo County Jail. Following a psychotic break on Jan. 20, deputies strapped Holland naked in a restraint chair where he remained until shortly before his death, two days later, according to jail records.
While in restraints, blood clots formed in the 36-year-old man's legs. Upon his release, the blood clots traveled to his lungs causing a pulmonary embolism and his death, according to a preliminary autopsy report. Holland's parents say they believe sheriff deputies tortured and killed their 36-year-old son.
"I do feel like my son Andrew didn't just die at the county jail, he was killed, said Sharon Holland, Andrew Holland's mother. "He was not the first person with mental illness whose life has been taken there, and if something doesn't change, he will not be the last."
County employees, who requested anonymity because they fear retaliation, said that mentally ill inmates and patients are regularly mistreated and neglected by county staff. The mistreatment includes long-term isolation, incorrect medications and failure to provide adequate health care, the employees said.
After suffering a mental health episode in San Luis Obispo on Sept. 30, 2015, police arrested Holland for resisting arrest and battery of a peace officer. Instead of transporting Holland to a mental health facility as is protocol in many California counties, officers booked him into the county jail where he was permanently placed in isolation.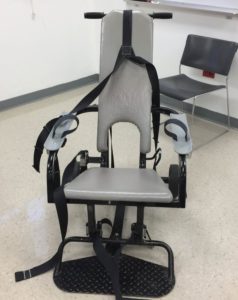 Several months ago, Holland's parents pleaded with jail medical staff to allow their son to take the psychiatric medications that work for him. However, at the jail, medications are not chosen because of effectiveness, but the cost, sources said. Upon arrival at the jail, psychiatric technicians select which medications to give their mentally ill charges, and then county physicians sign the prescriptions, sources said.
As a result of being abruptly taken off their usual medications, many mentally ill inmates at the jail spiral downhill. Inmates complain of seizures and psychotic breaks as their bodies attempt to adjust to their changing medications.
For Andrew Holland, his problems with medications and a lack of psychiatric treatment appeared insurmountable. During a year and a half in isolation, Andrew Holland suffered several psychotic breaks that led to additional charges lodged against him for battery of a custodial officer.
On Dec. 30, guards took Andrew Holland from his isolation cell, stripped him down and threw him naked into a small concrete cell with rubber padding, no bedding and a hole in the floor for his waste, according to jail records.
On Jan. 10, San Luis Obispo County Superior Court Judge Jacqueline Duffy ordered the sheriff's department to transfer Holland to Atascadero State Hospital (ASH). He was not transferred.
For years, the mentally ill have languished in the jail even though the court has ordered the sheriff's department to either transfer the mentally ill inmates to ASH or the county's psychiatric facility in San Luis Obispo.
The San Luis Obispo County Jail is run by Sheriff Ian Parkinson and houses about 600 inmates per day. The county health department, led by Jeff Hamm, is charged with the medical and mental health care of the inmates.
Under Hamm's leadership, the county mental health facility on Johnson Avenue has refused to admit more than a few mentally ill transfers from the jail at a time claiming the mental health facility is at or above its 16-bed capacity.
However, in 2016, the county mental health facility was never at capacity and at times housed only two or three patients, according to the facility's daily log sheets acquired by CalCoastNews through a public records request.
On Jan. 14, deputies moved Holland out of the rubber room and back to his isolation cell. Isolation that his family believe helped feed his psychosis.
"Andrew was kept in isolation for a year and a half," Sharon Holland said. "Strapping him in a chair for 48 hours would be torture. If he had been at Woods Humane Society, he would have been treated with more compassion."
At 5:40 p.m. on Jan. 20, guards spotted Holland punching himself in the face. Inside his cell, guards discovered Holland had blood on his face, chest, hands and legs as well as feces smeared on his hands and legs, according to jail records.
At approximately 6:30 p.m. on Jan. 20, guards transferred Holland to the drunk tank and strapped him naked into a restraint chair, dubbed the "devil's chair" by critics. In the hard plastic chair, detainee's ankles, legs, abdomen, chest, wrists and arms are strapped down.
Restraint chairs are intended to subdue violent detainees for a short period of time. Manufacturers warn of the dangers of pulmonary embolism if a person is detained in the chair for an extended period of time.
"Detainees should not be left in the Safety Restraint Chair for more than two hours," according to Safety Restraint Chair Inc., a manufacture of restraint chairs. "The Safety Restraint Chair should never be used as a means of punishment."
Though medical staff at the jail attempted to have Holland transferred to the county's psychiatric facility, on Jan 21, Dr. Daisy Illano claimed the facility was full and denied a transfer. However, according to the daily logs, on Jan 21 there were beds open at the county facility.
For two days, Holland remained strapped in the chair, covered in urine and feces, and not permitted to leave the chair even to use the bathroom.
On Jan. 22 at 4:45 p.m., after restraining Holland in the "Devil's chair" for more than 46 hours, guards released the straps, but left Holland in the frigid drunk tank without a bed or clothing, according to jail records.
Less than an hour later, at 5:20 p.m., guards noticed Holland lying motionless on the floor. A few minutes later, guards rolled Holland onto his back and discovered he was pale and cold to the touch, records show. The guards then initiated CPR.
At 5:30 p.m., an ambulance with medics arrived at the jail. At 5:36 p.m., lifesaving efforts were stopped and medics pronounced Holland dead, according to jail records.
When Holland's naked body was removed from the drunk tank on Jan. 22, he had scars on his left wrist, bruises on his arms and legs, a swollen nose and dried blood and feces on his body, according to jail records.
Misinformation
Shortly after Holland's death, the sheriff's department sent out a press release that drastically contradicts custody records and a preliminary autopsy report. In his release, sheriff department spokesperson Tony Cipolla paints a picture of a detainee who died mysteriously without any bruising or marks on his body.
In the Jan. 22 press release, Cipolla claims Holland was under the care of a physician at the time of his death. However, according to Holland's chart, while Dr. Illano spoke with jail staff over the phone, she did not examine Holland.
"Holland had been under observation and was monitored and checked approximately every 15 minutes," the press release says.
But, three or more hours often passed between jail staff assessments of Holland, according to county records.
"Custody staff and jail medical staff immediately provided emergency lifesaving attention, including the use of an automatic electronic defibrillator (AED), however staff was unable to revive him," the press release says.
Even though jail staffers hooked Holland up to the AED, it was never used to shock Holland's heart because it was determined Holland was no longer receiving electrical impulses from his brain. The defibrillator requires that the heart is receiving electrical impulses in order to be effective, sources said.
In addition, Cipolla noted that Holland's body showed no signs of trauma.
"There were no outward signs of trauma on Holland's body," Cipolla wrote in the press release.
However, Holland died with scars, bruising and swelling on his body, according to Holland's chart and a preliminary autopsy report.
Neither Cipolla nor Sheriff Ian Parkinson answered questions about why the court order to transfer Holland was not followed or why there are discrepancies between official records and the department's press release.
"Since this is an ongoing investigation, the sheriff's office will not be releasing any further details about this case other than the information that was previously provided," Cipolla said.