Teen shot and killed in Santa Maria
September 4, 2017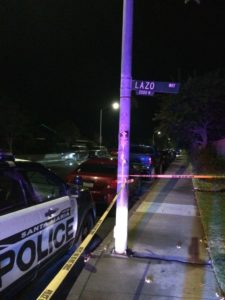 After going months without a homicide, the city of Santa Maria has now had two murders in the last two weeks. The latest victim was a 19-year-old man, who was shot and killed early Sunday morning.
The shooting occurred around 12:40 a.m. in the 2000 block of North Lazo Way, according to the Santa Maria Police Department. The suspect or suspects remain on the loose.
Police have identified the victim as Santa Maria resident Edward Jonathan Ramirez. Officers found Ramirez after he was shot near the roadway. Responders tried to resuscitate him but did not succeed.
Authorities have not released any information about a possible suspect or suspects. An investigation into the homicide is ongoing.
Following 2015, in which there were 13 murders in Santa Maria, and 2016, in which there were at least nine, no homicide took place in the city this year until late last month.
On Aug. 24, a Santa Maria man shot and killed his estranged wife and fled with their 9-year-old son amid a contentious divorce and custody battle. Officers later shot and killed the murder suspect in Los Angeles and rescued the child.
Anyone who has information about Sunday's murder is asked to call the Santa Maria police watch commander at (805) 928-3781 ext. 2297.