Grover Beach staffers picket city hall, consider strike
September 18, 2018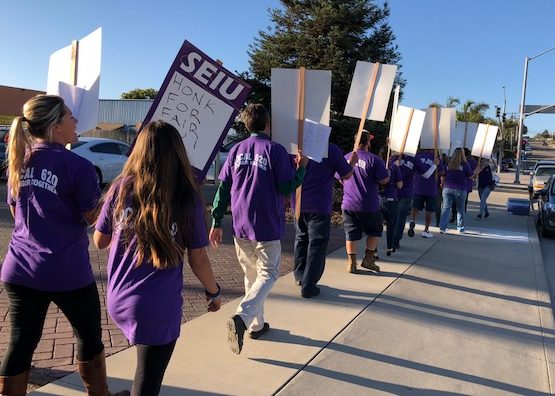 By KAREN VELIE
Multiple city workers marched around Grover Beach City Hall Monday during the city council meeting in protest of the city's stalled negotiation with the employee union. [Cal Coast Times]
For six months, the union and the city were unable to reach an agreement over cost of living increases. The city had offered employees a 1.5 percent increase in pay while the consumer price index is over 3 percent and employee health costs have risen.
"Our members have families that need to eat, need to have housing and need to pay for the other necessities of life," the union said in a press release. "Being amongst the lowest paid employees and with many already having to commute long distances, the offer provided by the city is simply not adequate for our members to keep pace."
For decades, Grover Beach city employees have remained the lowest paid city employees in the county. The Local 620 includes city office, planning, public works and parks and recreation employees. Many of these employees agreed to financial concessions, including furloughs, in 2012 because of budget shortfalls.
Over the past few years, the Grover Beach City Council has voted to approve multiple marijuana dispensaries in an attempt to raise revenue coming into the city.
In Nov. 2017, the Grover Beach City Council voted to double their monthly stipends. With the increase, council members now receive $600 monthly, and the mayor is paid $750 a month.
In an effort to reach an agreement, the union lowered their requested cost of living increase to 2.5 percent. The city denied the request and has ended negotiations.
As a result, union members picketed the council meeting in an attempt to bring the city back to the negotiating table. Several members of the Local 620 said they are considering striking if the city refuses to reopen negotiations.