Landowners victorious in North County water trial
October 1, 2018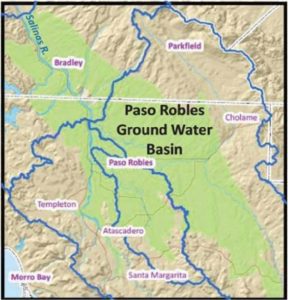 OPINION by  GREG GREWAL
All citizens pay attention. The jury's decision on Sept. 24 was a devastating blow to the governmental agencies who are claiming a "win." Here is a bit of history for context, important details and a call to concerned citizens.
In Nov. 2013 a group of North County landowners filed an action called quiet title, in response to the San Luis Obispo County Board of Supervisors discussions about water and an urgency ordinance. This emergency ordinance punished landowners while the Cities could continue to build new hotels and homes.
The Quiet Title named San Luis Obispo County, Paso Robles, Atascadero Mutual Water Company, Templeton CSD and San Miguel CSD in the action. These landowners simply want to quiet the titles to their properties to protect their right to reasonably use groundwater on their properties as guaranteed by the California Constitution.
The government answers in Dec. 2013 were telling. The primary claim of the government entities (not Atascadero Mutual Water Company) was prescription.
Prescription* means the government entities were claiming that they had already taken more water from the basin over a five-year shortage, known as "Overdraft." The legal elements of prescription are "open, notorious, hostile, adverse and continuous with proper "notice" to landowners." This claim confirmed suspicion that the government entities were aggressively pursuing theft and a taking.
Judge Kirwan in Santa Clara Superior Court determined that a jury trial was appropriate for Phase 3 of the case and ordered a jury trial to commence Aug. 26. Every day of the jury trial, North County residents traveled north to witness the trial.
Our group was often outnumbered by the government attorneys and their jury consultant team. District five Supervisor Debbie Arnold was the only elected official to attend the trial.
Key witnesses for the government attempted to redefine "overdraft" in order to allow the government entities the broadest possible ability to prove prescriptive rights. This fabricated definition is completely inconsistent with the State (DWR) and San Luis Obispo County's own water studies (see below). SLO County and Paso Robles' testimony on cross examination included admissions that "there has been no declaration of overdraft for the basin," said Courtney Howard, San Luis County Water Resources Division Manager.
"None of the previous technical reports have concluded that the Paso Robles groundwater basin is in overdraft," said Christopher Alakel, Paso Robles Water Resources Manager.
The 12 member jury found that SLO County, Paso Robles, Templeton and San Miguel had proven their case for a minuscule amount of water from 28 to 37 years ago (1981-1990).  Prescription was awarded for only the years 1981 through 1990.
This means that if the basin ever enters a true overdraft, the government entities would be able to use the court determined amount of water. Those who sell water may only do so in surplus and in declared shortage they may only pump and sell the court determined amount.
A key piece of information that the government fought hard to keep out of evidence is known as Paso Robles Groundwater Basin Agreement or PRIOR Agreement. The agreement was signed by SLO County, Paso Robles, San Miguel and a number of landowners in the basin who are not part of the quiet title action on or after Aug. 19, 2005.
The agreement states that "Landowners wish to preserve their overlying groundwater rights without Municipal Users developing or asserting a prescriptive ground water right…"
The Agreement also says that it cannot be terminated unless "The District (SLO County) has made a determination based on published studies that the basin is in a condition of overdraft" and does so in a "noticed public hearing." Why did government entities fight so hard to keep this agreement out of court? Why didn't SLO County fulfill their obligation to the agreement by declaring overdraft? Does this agreement truly protect landowners? Is the agreement even valid today?
Here are a few more questions:
Why are government entities spending your tax dollars fighting landowners who simply want to protect a basic right?
Why try to prove that the basin is in overdraft when County and City employees are on the record saying just the opposite?
Why claim that there was notice of overdraft when a scientifically based overdraft has not been determined or declared?
Why did government witnesses who are expected to serve all citizens, make claims in public meetings which conflict with their own testimony in court?
Citizens need to know: 
Getting to a jury trial and through the prescription phase was a huge win and a giant step toward a judgement of quiet title for landowners.
The jury award of a minuscule amount of prescription for a time frame from the distant past was a huge win for landowners.
The most recent period (2006- though 2010) over which entities claimed prescription was denied by the jury. Additionally, an overdraft in 2011 through 2018 was not even claimed by government!
Why has DWR declared our basin "critically overdrafted?"
The DWR declaration of critical overdraft of the Paso Robles Groundwater Basin is a political designation, not based in true science (Fugro 2002, 2005, Anthony Daus, landowner expert, GSI Environmental testimony).
SLO County and the City of Paso Robles political actions, since 2008 when they were awarded grant money for a banking feasibility study, are highly questionable.
Basin safe yield number in 2002 and 2005 (Fugro) was 97,700 acre feet and were adjusted downward only the quiet title action was filed (see the 2014, 2016 updates)
The city of Paso Robles groundwater well fields near the airport include five wells within a four square mile radius, the center of the "red" where water tables are dropping (Alakel).
Why would the city continue to pump from that region?
The Groundwater Sustainability Plan for SGMA is being guided by government agencies who have been sneaking around setting up theft while pretending to "work together" with landowners
Definitions: 
Quiet Title: The means through which to protect property from trespassing, in this case theft of an underground resource and the priority right to use it.
California Constitution: Landowners have the right to reasonable and beneficial use of the water under their property on their property.
Prescription: The elements of proof are that the theft of the right must be open, notorious, hostile, adverse in "overdraft." Prescription is claimed over the entire basin, not just against landowners who have chosen to protect their rights in court.
Overdraft: "Groundwater levels declining over a period of years and never fully recovering even in wet years." (Bulletin 118, Update 2003)
Safe Yield: "The maximum quantity of water that can be continuously withdrawn from a groundwater basin without adverse effect." (DWR, Bulletin 118 (1975))
Surplus Water: Basin safe annual yield is 97,700 acre feet (Fugro 2002). Landowner pumping is 88,154 (acre feetFugro 2002). Which equals 9,000 acre feet of surplus water for sale by government to customers
Greg Grewal is a decorated, retired LA City fireman who owns ranch land in East Paso Robles. Greg serves as Debbie Arnold's appointee to the Water Resources Advisory Council. All studies, court testimony and court evidence is public record and will be provided upon request to concerned citizens.