Mother and children rescued after vehicle swept into river in San Miguel
March 24, 2023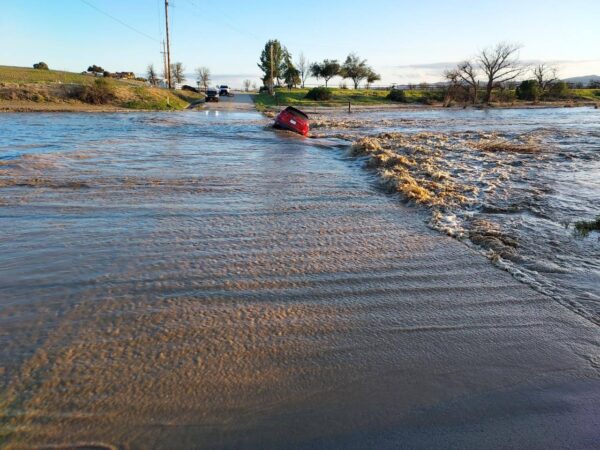 By JOSH FRIEDMAN
Civilians and a San Luis Obispo County Sheriff's deputy helped rescue a woman and her three children who became stuck in the Estrella River in San Miguel Thursday evening after the mother attempted to drive through a water crossing. 
At about 6:15 p.m., 911 callers reported a woman and her three children were stuck in their vehicle at the Estrella River low-water crossing on North River Road in San Miguel. The woman had driven around the road closed signs and attempted to cross through the moving water, according to the San Luis Obispo County Sheriff's Office. The water swept her vehicle off the road and into the river. 
Deputies, Cal Fire personnel and San Miguel firefighters arrived at the scene. When deputies arrived, two civilians were attempting to bring the children to shore through the waist-deep raging river. 
A deputy entered the water and helped all of the children to safety. The deputy then reentered the water and assisted the mother with getting to shore. 
Sheriff's officials are urging the community to abide by road closures and follow the law. 
"Don't put your life or the lives of others at risk by circumventing warning signs," the sheriff's office stated.