Officers arrest suspected arsonist near Lompoc
June 25, 2023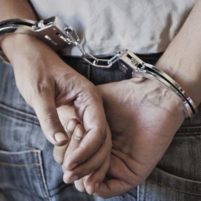 By KAREN VELIE
Lompoc police officers arrested a 31-year-old man who is suspected of starting a brush fire near Allan Hancock College on Sunday.
Shortly before 11 a.m., several 911 callers reported a brush fire burning near the college. The Lompoc, Santa Barbara County and Vandenberg fire departments battled the blaze.
Shortly after firefighters arrived at the scene, they informed the Lompoc Police Department they had spotted a possible arson suspect near the old drive-in theater.
Officers arrived and determined Claudio Nava Santiago was the suspected arsonist. Investigators arrested Santiago and booked him in the Lompoc Police Department Jail on an arson charge. He remains in custody with his bail set at $50,000.