Villa Automotive in SLO catches fire
January 19, 2015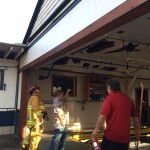 Longtime San Luis Obispo-based auto care shop Villa Automotive caught on fire Sunday afternoon, but suffered limited damage. [KEYT]
The fire broke out in Villa Automotive's attic around 3:15 p.m. With assistance from an automatic sprinkler system, San Luis Obispo firefighters extinguished the blaze within 15 minutes of arriving on the scene.
Fire officials say the blaze occurred as a result of a Villa employee sweating a copper pipe. Slag fell into the wall and pushed the fire into the attic.
Damage resulting from the fire is estimated to be approximately $2,000. Neither occupants of the shop, nor firefighters suffered any injuries.